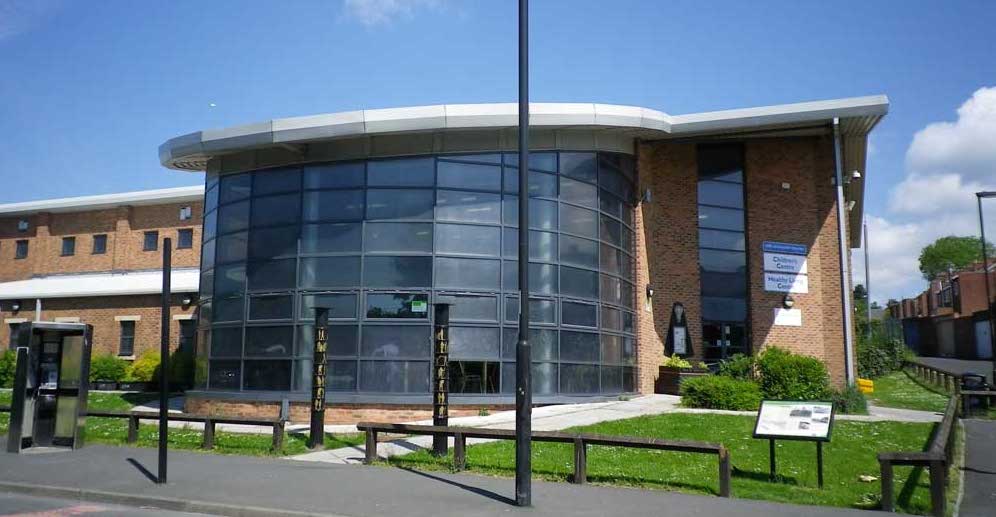 This month we're focusing on a charity that are providing innovative health and wellbeing services to communities in Newcastle: HealthWORKS. Having recently been nominated in the 'Best Patient Experience' category at the NHS Health Check Awards, we caught up with Claire Laydon-Baptist – Senior Manager at the charity – to find out more about the organisation's outreach work and how they've managed to become one of Newcastle's highest performers in terms of NHS Health Check delivery.
Perhaps you could say a few words about what you regard as HealthWORKS' ethos and the role you play in Newcastle's communities?
The ethos of HealthWORKS is 'better health: fairer health, for everyone in the city'. There are a lot of health inequalities out there and we're really trying to bridge the gap. Our focus is on providing peer-to-peer support and training local people to work in their communities. Our aim is to get in early and offer services to everybody of every age, from pre-natal to old age.
What kind of services are you running?
There's a huge range! We work across the whole of the life course; starting with the pre-natal, we run a Sure Start centre for families with young children. This work involves promoting breast-feeding in communities across the city as a really important way to encourage parent bonding and prevent illness.
Our services for older people include an 'exercise on referral scheme' for people with long term conditions such as heart disease and musculoskeletal problems. We also deliver a falls prevention class across the city in order to help frail elderly improve their balance and recover their confidence after a fall.
For those aged 16+ who want to improve their health and wellbeing, we run a community health trainer service. This team helps people access the kind of support and health advice they need to improve their mental and physical health, whether that's to do with healthy eating, smoking cessation, weight management, socialization, alcohol consumption or physical activity.
Our health trainers also deliver NHS Health Checks. However, in order to manage the huge increase in demand for health checks that we've experienced, we've recently created a dedicated health check team.
It sounds like the health checks have become a big part of your community provision. Can you say a bit about how this happened?
We initially used our links with community settings and organisations to establish an outreach service. This was done to access the people that might not be registered with a GP or who don't see the point in making an appointment to go for a health check. Our community work helped to get our service going, however the steady increase in demand also has a lot to do with us developing our workplace health check programme. This was put in place to access the people who are busy at work and who often put off going to their doctor because it means taking time off. In short, we have tried to put ourselves in the shoes of ordinary people and looked at the barriers they may face when taking up the health check offer.
What sort of workplaces have you been going into?
We've recently been working with Your Homes Newcastle (YHN) who manage all the council houses in Newcastle. Our teams have been delivering NHS Health Checks to YHN's staff and are actually booked up until Christmas! We're also in talks with the local police force and, going forward, we may have a role to play in offering health checks to council staff.
In terms of reaching smaller businesses, some of our team have been going into industrial units and garages to tell people about the service face-to-face. This has been really successful and has helped reached the kind of organisations and employees that might otherwise get overlooked.
For us, it's all about fairness so we try and make sure everyone's got an equal opportunity to get checked. What's more, by going into manual workplaces, we've found that we encounter the groups that are regarded as 'hard-to-reach'. This outreach approach in combination with our friendly and professional reputation has allowed us to see a lot of people – particularly younger and middle-aged males – that often don't engage with clinical healthcare services.
In essence, we're trying to get to the places where working people spend most of their time: the workplace. A lot of effort has gone into establishing the service, but it's really starting to pay off. We went from ten health checks a month, up to sixty. Come May/June time, that's hopefully going to triple.
So what kind of techniques do you use to encourage healthy lifestyles in the people that you reach?
We're a very realistic service. We wouldn't say, for example, 'go on a diet' or 'get in the gym'; we'd say 'this is where you are currently, where would you like to be?' We then help people to plan and take the steps that will help them achieve their goals.
Another related technique is that we often try to help people look at where they are now and where they see themselves in ten years. We ask the simple open question 'if you don't change anything, how do you think you'd feel a decade from now?' We might then ask them to think about how they'd feel if they were to make some changes. This just allows the person to see and determine the journey that they want to go on.
The Health Options software we use to deliver NHS Health Checks is great for helping us show the effect of making these changes. We can, for example, instantly show how someone's heart age would change if they were to give up smoking. This is a really supportive tool and we've seen it make a big difference to a lot of people. The software is also very visual; lots of people respond well to its built-in colourful risk graphics.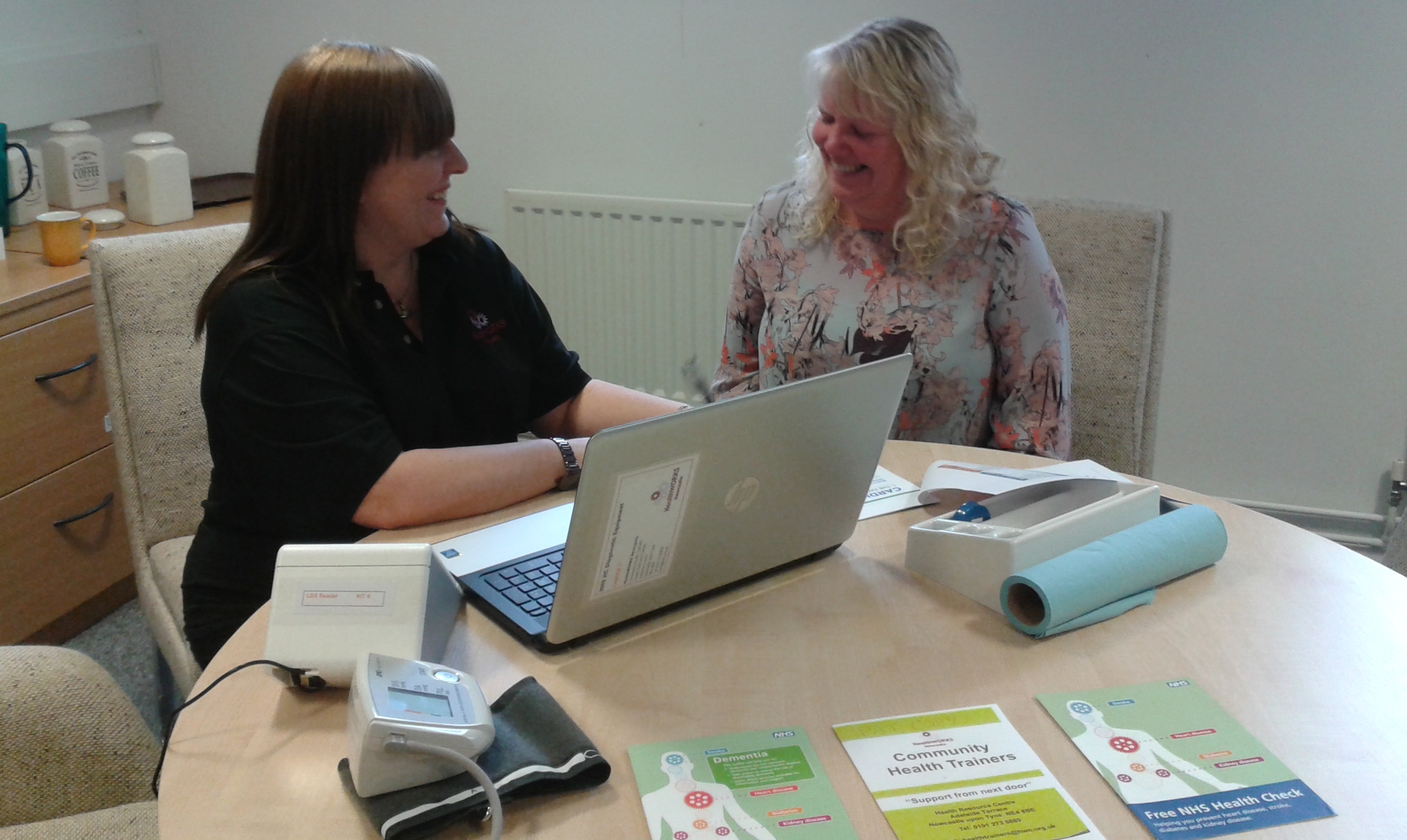 It sounds like you're really maximising the intervention opportunities offered by the NHS Health Check.
We've only got half an hour to make a difference during the health check, but we refer and signpost anyone that wants further support. There's been a lot of learning on this front; we've found that unless people are really interested in being referred, many of them don't take up the offer. This can put a massive strain on services, so we only refer now if people are really keen after we've talked through the options with them. Basically, we don't push people – it doesn't work – but there's a lot available for those that want to make a change.
And what are the effects that you're seeing on the frontline?
On an individual level, many of the people we've seen have been able to improve their health once they've been made aware of their own individual risk score, and are very grateful for the role we've played in this.
On a wider scale – and whilst health inequalities are a difficult thing to measure – I've seen a lot of people with long-term conditions and risky health statuses who are still accessing our services and whose health has improved as a result. On the down side we are also noticing that funding cuts are having a huge impact on people in our communities; mental health has definitely deteriorated in deprived areas because of the cuts.
What would be your take away message based on what you've seen and what you'd like to see going forward?
What we've really noticed is that health checks have helped people become more aware of their own health and the choices around that. They're helping people take responsibility for their health and often function as a gateway to people being empowered to make lifestyle changes.
They're having another effect though; in some workplaces we've found that the health checks have really helped to start up conversations around health. Those that have had a check will ask one another 'what was your heart age?' and then might decide to join a club or do something after work together. In this sense, they're getting people to talk openly and take action.
In terms of my hopes going forward, if I had a magic wand, I'd love to see community services and GPs evolve to a stage where we can all work together to offer a more joined-up service. From our perspective, this would make a big difference to the service people could receive.
Thanks Claire