Introductory overview
Health Diagnostics supported Durham County Council (DCC) in the delivery and administration of the 'Check 4 Life' (C4L) programme, the local variation of the NHS Health Check for seven years from 2009 to 2017. DCC is a large county with both rural and urban populations. The lead provider that supported practices and that Health Diagnostics worked closely alongside was County Durham and Darlington NHS Foundation Trust (NHSCDD).
To achieve quality and consistency across primary care in a cost-effective way, DCC took a whole systems approach to the delivery and administration of the programme. Health Diagnostics' contract involved supplying 99 GP practices across two CCGs and a large number of community providers (including pharmacy and outreach) with an end-to-end solution for IT and point of care. This solution encompasses the following:
The ability to query patient databases and identify the eligible cohort
Automated invite processing from an NHS approved mailing house
An interactive tool for patient-focused health check delivery
Electronic data transfer to patient records
Provider invoicing
Analytic intelligence on local health trends and provider performance
CPD certified training
Provision of all point of care equipment, consumables and quality assurance
Consultative services and support on all elements of delivery/administration
Solution implementation phase 1: community provision
Health Options® software – the front end of Health Diagnostics' solution – is at the core of what was used by DCC. This system functions as the central platform for the complete range of data and support services that Health Diagnostics offer. It represents a core element of the solution routinely involved in Health Diagnostics' provision.
The system was initially procured by DCC in 2009 to support the community delivery element of the programme (provided via pharmacies, outreach teams and occupational health providers). Initially, 49 community providers, all of which were delivering in different settings, were supplied with Health Options® software to facilitate a completely consistent NHS Health Check delivery model. Use of this system ensured that regardless of the community setting in which a health check was accessed, the patient experience was invariably high quality (see the 'Outcomes' section below for statistics and feedback in regard to highly positive patient experiences).
Ensuring complete quality and consistency also applied to the data administration and reporting aspect of DCC's programme. All health checks delivered in the community – providing they adhered to the minimum dataset requirements – underwent automatic electronic transfer to the relevant GP practice and patient record. This data transfer mechanism, used successfully by CCGs/LAs across the country, represents innovative working insofar as it ensures:
Compatibility with all clinical systems
Complete removal of any requirement to re-key results; once accepted, granular data automatically flows onto the patient record
Practices may review results before accepting their transmission
Results transmitted from community providers are read-coded as a 3rd party (allowing them to be easily distinguished from those delivered in general practice

Solution implementation phase 2: GP provision
Expansion into DCC's 99 GP practices occurred from 2013 as a result of the solution becoming well established as the tool for community provision. Key reasons for expansion were that:
Local practices became aware of the superior quality of the interactive and patient-focused tool used by community teams and requested it for their own use.
The quality and completeness of the data being gathered by providers using Health Diagnostics' solution was far superior to that which was being collected via clinical systems and so the local Public Health Consultant – Dr Mike Lavender – was fully supportive of the solution's wider roll-out across the primary care network.
The support offered by Health Diagnostics was of extremely high quality and so Public Health were keen to expand the organisation's influence and oversight.
Health Diagnostics managed the installation of the solution in practices, a process which was efficient and included the distribution and receipt of all relevant documentation. The system ultimately proved extremely popular, with 8/10 GP practices reporting that Health Options® software was more effective for communicating CVD risk than any system previously used.
Solution implementation phase 3: Call & Recall deployment
Health Diagnostics' support for primary care was extended in 2015 when DCC commissioned the solution's Call & Recall module. This tool allows GP practices to identify and risk stratify their eligible cohort and send automated invite letters from an NHS approved mailing house. A further example of market-leading innovation is the fact that Health Diagnostics' Call & Recall module allows practices to target their invitations based on CVD risk, deprivation index, heart age differential and diabetes risk. Due to the ease with which the tool may be used, practices across Durham were able to send smaller and more frequent runs of invites and follow these up in a manageable fashion. By default, the invites distributed were both personalised to the practice and incorporated best practice guidance with respect to improving uptake from the Department of Health.
Having been commissioned by the Council to help practices across Durham improve their invite distribution and programme uptake, the tool ultimately allowed practices to achieve their goals. The Call & Recall module was able to help the Council boost their average quarterly uptake from 41% (the rate before Health Diagnostics' involvement in the invitation process), to an average of 65% (during Health Diagnostics' period of involvement). Since the end of the contract period and during which time practices across DCC have returned to sending their own invites, this uptake level has dropped to 24%. These figures and their implications are detailed in more depth in the 'Outcomes' section of this case study (see below), as are the views of practice administrators responsible for using the Call & Recall module.
Transition and mobilisation
Communication with key stakeholders
Health Diagnostics worked closely alongside NHSCDD and the North East Commissioning Support Unit (NECS) to facilitate the robust establishment of communication channels with local practices and key stakeholders.
Completion of data sharing agreements
Having established the communication network in collaboration with NHSCDD, Health Diagnostics distributed a 'Document pack' to local practices. This contained all forms, DPAs and guidance necessary to enable the solution within a GP setting. Once the relevant documentation was received back from the practices – including an evaluation from each site of their requirements in terms of users and available consultation spaces – Health Diagnostics configured a site installation plan and informed the local CSU accordingly.
A recent advancement on the above is that Health Diagnostics now distribute document packs digitally as well as by hard copy if required. Having learnt lessons from numerous experiences supporting projects of this kind has allowed for the development and refinement of a highly efficient and streamlined process for communicating essential information with GPs. It is this extensive portfolio of learning that Health Diagnostics are routinely able to bring to the table, free of charge, when supporting clients to deliver and administrate NHS Health Checks.
Implementation of user training
The installation of the IT solution on local practice computers was facilitated by the CSU with support from Health Diagnostics. The completion of this installation triggered the deployment of a member of the NHSCDD team to deliver a training session for the practice staff. Once the relevant documentation was received from practices, this process was generally organised within 5 working days. For more details of Health Diagnostics' CPD certified training programme, contact our dedicated training team.
Challenges
Educating practices to be more targeted in their approach to distributing invitations represented a particular challenge. Initially, some practices were sending large numbers of invites and not following up on these, thus not using their funding efficiently. Educating practices to send smaller numbers of targeted runs and encouraging them to follow up (e.g. by sending reminder texts or by printing contact lists and telephoning, both of which the solution allows for), led to heightened invite targeting and average local uptake rising, during some quarters, to in excess of 80%.
A further challenge was that initially some practices were reluctant to move away from using their clinical system. However in time and after being exposed to how simple and effective the system was to use, this was overcome, as is evidenced by the numerous positive testimonials received from DCC providers.
Throughout the contract, there was a small number of practices that were unreceptive to the programme and refused to deliver health checks using the system. Despite repeated attempts at engagement from DCC Public Health, these practices remained resistant and exerted a significant impact on undermining the programme's mandate for universal provision. Ultimately this continued opposition led to a re-procurement exercise directly with the GP Federation which saw them return to their clinical system for delivery.
A final challenge was ensuring data collection procedures across all providers was totally accurate. Health Diagnostics developed a 'Quality Report' which allowed project leads to drill down to the level of individual operator activity and address this.
Outcomes
Invitations and uptake
Insofar as invite/uptake is concerned, according to data published by Public Health England, Health Diagnostics were able to help increase the uptake of NHS Health Checks in DCC by around 57%. Before Health Diagnostics began supporting practices with the identification/invite process, NHS Health Check uptake was at 41.3%. With systems and support provided by Health Diagnostics, practices in DCC reached an average uptake level of 64.9%. Since the end of the contract period, average uptake has fallen to 24.1%. The graphs below show a visual representation of these trends in NHS Health Check uptake: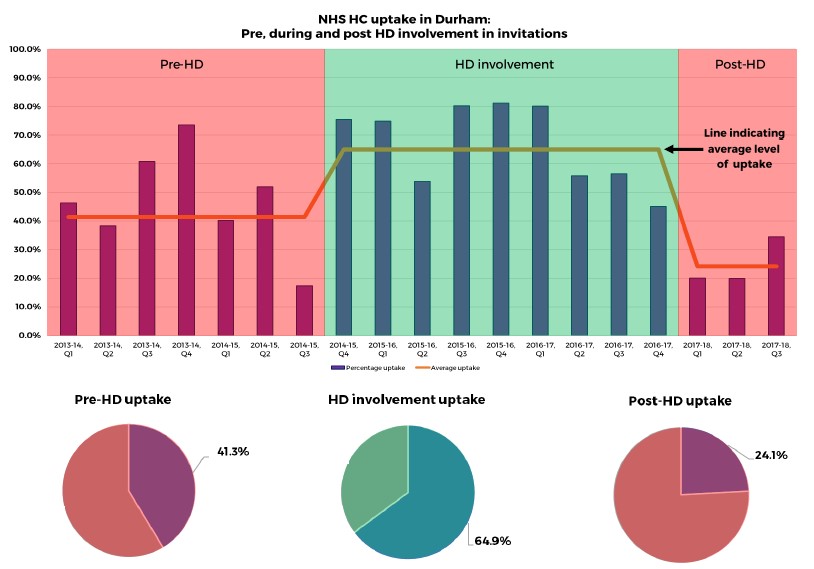 As is also evident from the charts, since the end of Health Diagnostics' contract period in quarter 4, 2016-17 (and since the point at which the solution was no longer commissioned), there has been a 63% decrease in the level of uptake. However, at the same time as experiencing this fall in uptake since solution withdrawal, general practices have increased the average number of invites they're sending each quarter by 61%. The chart below demonstrates average invites sent per quarter before, during and after Health Diagnostics' involvement in the programme:
So what do these invitation/uptake figures practically mean at a practice level? The 61% increase in invites along with the simultaneous 63% decrease in uptake that's been seen across Durham since the solution was withdrawn indicates the significant benefits in terms of efficiency that Health Diagnostics' systems were able to facilitate when they were in use. In essence, the evidence demonstrates that when using the solution, general practices are able to be highly targeted and achieve more with less. The reasons contributing to this include:
The ease of use with which the tool can be used and invites distributed means that the administrative burden associated with sending invitations is drastically reduced
The system allows for quick and easy follow-up for those that have been sent invitations, thereby enabling the maximisation of each invitation
The tool significantly improves targeting by allows invites to be sent based on CVD risk, deprivation index, heart age differential and diabetes risk
Despite being locally tailored to each GP practice, the system also, by default, incorporates best practice guidance issued by the Department of Health
The ethos driving the system's development has been to ensure GP practices are fundamentally able to work smarter, not unnecessarily harder
Call and Recall was extremely well received by practices with numerous testimonials praising how simple, efficient and time-saving it made the invite process
Findings from collaboration with Imperial College London
Health Diagnostics arranged and managed a number of studies by Imperial College London (ICL) towards which DCC made significant contributions. One study, recently published in BioMed Central, has shown that providers using Health Diagnostics' IT solution are able to "effectively reach under-served groups by delivering preventive CVD services to younger, more deprived populations, and a representative proportion of ethnic minority groups", thereby working to "reduce health inequalities" and address the inverse care law.
Further research completed with extensive input from DCC providers and recently published in BMJ Open has focused on people's attitudes and beliefs about cardiovascular disease. Having developed a questionnaire to assess these attitudes and beliefs though running focus groups, DCC providers distributed surveys before and after NHS Health Checks. Researchers from ICL have been analysing the data and early indications are that NHS Health Checks delivered using Health Diagnostics' systems and service do increase the accuracy of attitudes and beliefs about their CVD risk, a crucial precursor to people taking effective action.
Researchers working on the NHS Health Check National Evaluation have explicitly praised Health Diagnostics' solution for its inherent ability to ensure complete datasets are collected by providers. One of the aforementioned studies by Woringer et al highlighted the specific suitability of Health Options in this respect for gathering "routine Health Check data" in a "patient centred" manner. In a recent interview with Maria Woringer – the lead researcher on the study – she went on to state that data gathered with Health Diagnostics' solution "had much better clinical and demographic recording of data [than that gathered using clinical system templates] because it was designed to collect data specifically for the health check. In addition, Health Diagnostics' data underwent more routine checks than data that's collected in general practice."
Views of NHS Health Check providers and service users
Key outcomes from a survey that was distributed across the primary care network include:
8/10 rate the set-up support they received from Health Diagnostics as good-excellent
8/10 C4L Champions said that Health Options® was more effective for communicating CVD risk than any system previously used
Outcomes from survey of 1054 people in DCC that received a consultation with a trained professional using Health Diagnostics' solution:
91.5% were 'very satisfied' with their health check
99.9% would recommend a health check to others
According to Jacqui Deakin, Health Improvement Lead at NHSCDD:
"The NHS Foundation Trust has worked very closely with Health Diagnostics for a number of years to make the Check4Life programme what it is today. As an organisation, they are the most 'can-do' flexible team I've ever known. Health Diagnostics have been absolutely fantastic to work with."
Glossary
C4L: Check 4 Life
CCG: Clinical Commissioning Group
CPD: Continuing Professional Development
CVD: Cardiovascular disease
DCC: Durham County Council
ICL: Imperial College London
NECS: North East Commissioning Support Unit
NHSCDD: County Durham and Darlington NHS Foundation Trust