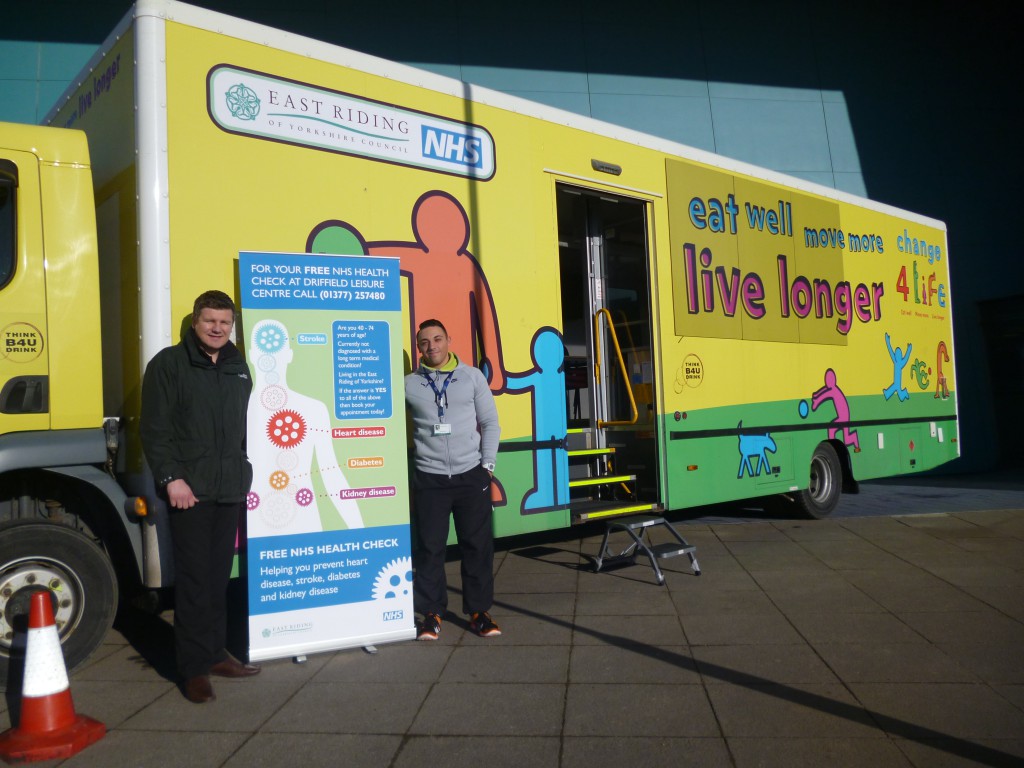 For a number of councils up and down the country, leisure services play a central role in providing public health programmes and promoting wellbeing. Nowhere is this more evident than in East Riding of Yorkshire. With a large and predominantly rural population, East Riding council has been faced with some unique challenges around making their NHS Health Checks accessible. Addressing these challenges head-on, East Riding's leisure services are reaching out to the local communities that don't engage with primary care. We spoke to Jennifer Lonsdale, East Riding's Healthy Lifestyles Development Officer, about how the area's leisure teams have become key to the council's health check programme and prevention agenda.
Q: So Jennifer, what's the picture locally in terms of the populations you serve?
A: East Riding is a very large and sparsely-populated area. There are 115,410 people that are eligible for an NHS Health Check, however these are spread out over 170 parishes! We deliver the programme through ten leisure sites that have just over 15,000 members between them. Despite representing an important point of access for us, we do find that a significant number of people living in rural locations simply don't access the leisure centres or GP surgeries. There are a lot of people out there, it's just getting out to them that's presented us with challenges.
Q: How are you accessing the populations that are harder-to-reach?
A: The leisure teams are responsible for running an outreach project that uses a public health vehicle. This has allowed us to really get out to our isolated communities and promote the programme amongst some of the hardest-to-reach. Key to the project's success has been engaging with local parish councils and the Rural Partnership Team; I honestly don't know how we'd have done it without them.
Q: Can you say a bit about how you've worked with the parish councils?
A: We tell the parish councillors that we're going to come to their area and offer free NHS Health Checks. We essentially ask them to use their communication networks to help raise the profile of the service amongst their residents. We also provide a booking system which people can use to make appointments in advance of our arrival. It's been a really positive and beneficial experience working with them.
Q: Are there any other organisations that have been particularly useful to engage with?
A: I've tried to think of absolutely everything to get into areas where we know people are going to be in the target age range! We've made a point of seeking support from the cricket clubs, the bowls clubs, and we've even been speaking with representatives from the county's neighbourhood watch scheme. Supermarkets' community champions are another useful group to reach out to. Asda, Morrisons and Tesco's have all got them and they can be very helpful in getting the word out. It's really a case of trying to forge connections with as many people as possible.
Q: It sounds like word-of-mouth is key to raising awareness and driving uptake in East Riding?
A: It's really important amongst the rural populations, yes. We also make a point of promoting the service through new and traditional media. For example, earlier this year a local radio station sent a presenter down to one of our leisure centres to broadcast and film a health check. We've now got that video on our website so if anyone wants to know more about what's involved – say if they're worried about what actually happens during a consultation – they can simply watch online.
Another strategy for driving uptake is to run promotional days using the public health vehicle where we offer a 'mini version' of the health check. We offer these to everyone, however if people are eligible, we signpost them on for a full NHS Health Check. There are lots of options as to where to get a health check and every provider in the county is listed on the East Riding website. If people live far away from a leisure centre for example but often go to Superdrug to pick their prescription up, we can just signpost them there as an alternative.
Q: Offering mini health MOTs is a technique that seems to work well in other areas as well. How effective has this been for you?
A: It's a really useful way to see a lot of people in a short space of time. We recently went down to an industrial park and did 18 mini MOTs in 90 minutes! The mini health checks also have an important place in the East Riding's new 'Chamber of Commerce Membership'. This basically allows smaller businesses and self-employed people to access membership to the leisure service at a cheaper rate. As an introduction to the scheme, we go down to the businesses and provide these mini checks. People are then signposted to NHS Health Checks if they're eligible and if there's a need; hence we link in to our other services. All of this falls into the prevention strategy that public health are currently working towards. It's really just about getting people to do something about their health before they need help.
Q: Have you come up against any barriers?
A: We do find that people expect to get an invite letter in order to have a health check. If they don't, they very often just don't accept the opportunistic service; they're waiting for that letter. It can be quite frustrating on our part as we're doing everything we can to promote it but are finding that people are saying "oh but I can't have that because I've not been invited." Also we do find that some residents know that they could make healthier lifestyle choices but don't want to be told, or don't want to know if there is a problem.
We've not experienced any problems with leisure services delivering the more clinical aspects though. We have clinical waste bins and waste removal contracts at all the sites where NHS Health Checks are done. We also train all our staff in such a way that they shadow a minimum of two NHS Health Check practitioners on the job. This reinforces to new staff how they should talk to clients, conduct appointments so they don't overrun, and operate the equipment. Until the mentors are happy with the new practitioner's level of understanding, they're not allowed to do any health checks.
Q: Once they're trained up, how do the staff members coordinate delivery within the leisure centres?
A: We used to have one person in each centre specifically doing NHS Health Checks. What we found though was that they were sometimes waiting around if they weren't fully booked. As a result, we've changed the way that we book people in. Now, as long as there's an appointment slot available with any trained member of staff, people can book themselves a health check. For the staff, this means that they can go from doing NHS Health Checks, to doing fitness classes, to working on cardiac rehab. Their days are full! It's also much better for clients as it means that they can access a health check from 7 o clock in the morning, right through to 10 o clock at night.
Q: How have you found people respond to the service?
A: We've had some fantastic feedback! For the pilot outreach project, we did a telephone call afterwards – a week or two later – to see how people thought it had gone. We found a lot of the people had really taken on board what the instructors had said to them and made some changes. Because a week or two had passed since they'd had the check, they were actually able to tell us what those changes were. When we ran our full scheme, we did a questionnaire immediately after the health check. The answers were slightly different and were more about the experience of having the check. Generally speaking, however, they were really positive. One said 'it's brilliant. It changes lives'. We know that it has done.
Q: What would be your top tip for running a successful project?
A: Just really get out into the community and let people know that the service is available. You can sit on your laurels and wait for them to come through the front door, but they won't. Making those connections and being proactive is essential.
Thanks Jennifer.