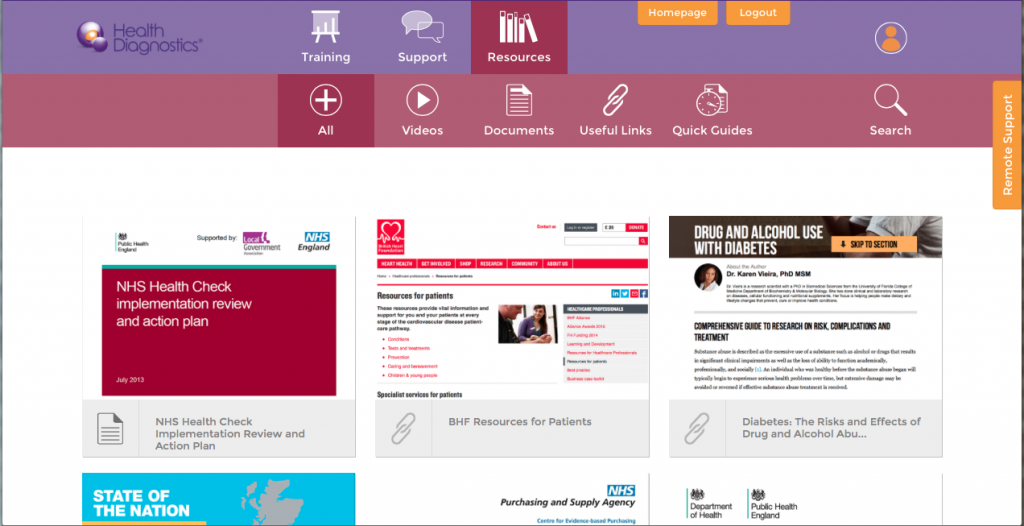 This March we're doing a two-part blog series focussing on NHS Health Check training and provider competencies. With Public Health England having just released learner and assessor workbooks to accompany the recently published competency framework, raising and refining provider competencies is an issue that's high on the national agenda. In response, we're using this post to bring you an update on the online training tools that we're making available to our partners. In tomorrow's post we'll be telling you about the innovative new delivery teams that we're training to deliver NHS Health Checks.
To help the providers we work with update their learning and further their professional development, we've created an online hub that hosts a range of health check e-learning tools. This is freely available for all of our partners; click the 'Register' tab in the top right corner of your screen to create an account and begin using the learning hub.
So what can you expect to find? Once you're logged in, you'll find a dashboard that's split into the following three sections:
1. Training
The training section is intended to be most useful to you before you begin delivering health checks and to top-up your skills. Within the section, you'll find videos, documents and useful links to modules that cover the range of practices taught on the 1-day training course. These include:
Video and written guides to cholesterol, blood pressure, and blood glucose testing
Workbooks and videos on how to encourage behaviour change in the context of a health check
Links to validated external resources that can be used to deepen your knowledge of effective health check delivery. CPD credit is available for successfully completing some of the online modules listed here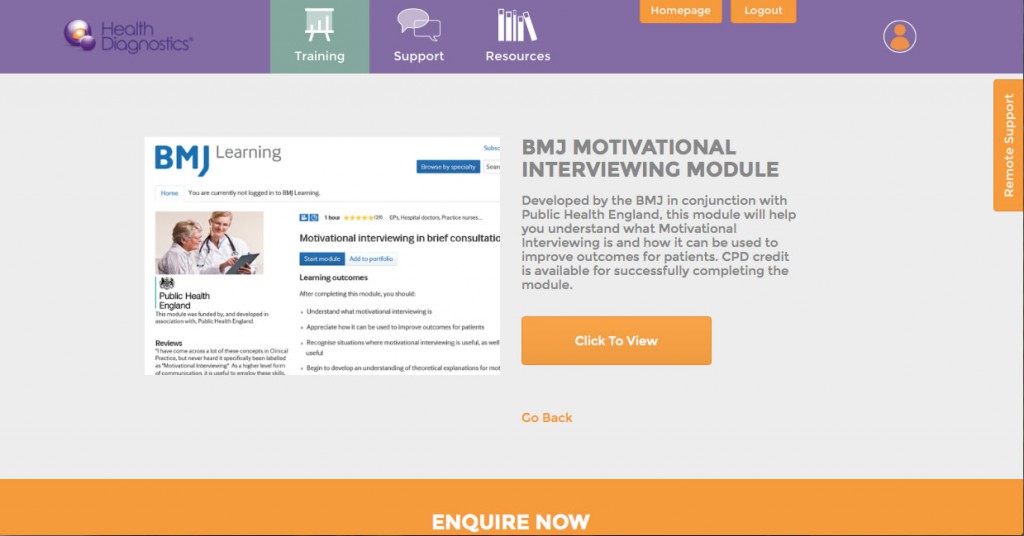 2. Support
The support section is conceived of as an area for providers to use with clients whilst delivering health checks. You'll find videos, documents and links to resources that may be helpful to individuals looking to implement and maintain lifestyle change. These include:
Cards with top tips on how to lead a healthy lifestyle
Tools with which to figure out the physical and financial costs of smoking and drinking
Links to websites and resources that are there to help people achieve their goals and lead healthier lives
3. Resources
The resources section is there to aid broader learning about health checks and their role within the public health sector. Videos, documents and links to resources that detail the strategy and evidence behind the NHS Health Check programme are listed. These include:
Videos and written findings from the NHS Health Check Leadership Forum and Picture of Health series of reports
Research that's helping to establish the evidence base and that's been carried out using Health Diagnostics' systems and services
Links to external resources that can help commissioners improve performance and implement best practice
In addition to the above, our support teams can answer your queries with a quick message and provide software help via the 'Remote support' function.
We hope that you find the learning hub useful and we're really keen to hear your feedback on whether you feel it meets your requirements. Catch up with us tomorrow to read part 2 of our health check training blog series where we'll be telling you all about the new delivery teams we've been working with.