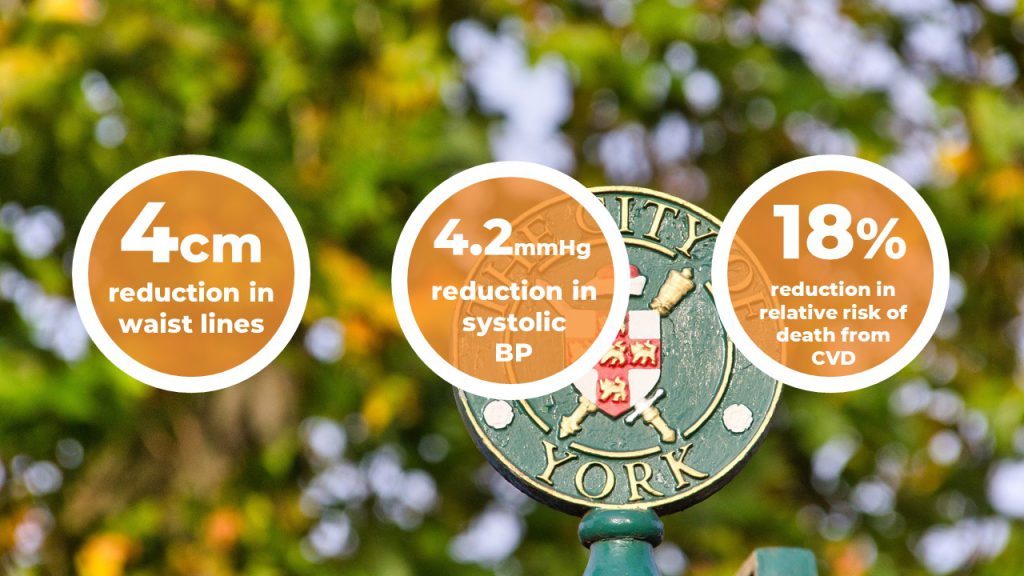 Introduction
Since 2016, the Occupational Health & Wellbeing Team at York and Scarborough NHS Foundation Trust (YSFT) have been offering health and wellbeing checks to local NHS staff. Led by Rachel Marson – the Trust's Health Promotion Assistant – the Programme has given large numbers of staff the opportunity to learn the facts about their heart health. This article outlines the steps that YSFT have taken and some of the outcomes associated with the Programme. What's more, we look at how YSFT have adapted and continued to deliver throughout the Covid-19 pandemic. It's this hard work that meant YSFT, alongside Health Diagnostics, were recently recognised in Personnel Today's Occupational Health and Wellbeing Awards 2021 as having delivered the nation's Best Wellbeing Initiative.
Model
Unlike the NHS Health Check Programme where appointments are only offered to 40-74 year olds every five years, YSFT's checks have not been restricted by age and numerous staff have attended annual appointments. This approach has allowed those individuals to trace changes in their health status over time. It also means that YSFT have been able to track the effects of the initiative by comparing results from initial consultations to later ones. Outcomes in this respect are explored below.
To deliver the programme in a digitally integrated way, YSFT commissioned Health Diagnostics. Used by various NHS Foundation Trusts around the country for programmes of this kind, Health Diagnostics' digital solution guides both operator and client through motivational consultations and supports the next steps in the pathway. Clients access their results online after their health check via their own personalised reporting portal. Importantly, given current social distancing restrictions, the solution has been leveraged by YSFT to deliver health checks remotely.
Covid-19 adaptations
Describing how the health check offer has been adjusted during lockdown, Rachel explained that the Team have tried to replicate, as much as possible, their pre-lockdown model:
"We've done quite well overall; the only thing that we've not been able to offer are the cholesterol and blood glucose measurements as we've not currently got an accurate and cost-effective way of doing these from distance. We're delivering the consultations either by video call or over the phone if staff don't have access to video link. It works particularly well if staff can access a computer because it means I can share my screen."
Staff are asked to measure their own weight, height and waist circumference. Given the NHS environment in which they work, many of them have also been able to take their own blood pressure readings. Once collected, staff have their remote consultation during which Rachel asks an additional range of lifestyle questions on factors such as smoking, alcohol and activity. Health Diagnostics' software is used to input all these results, reveal risk scores, and have discussions around behaviour change.
According to Rachel, "people really engage with the software's visual elements and find them very useful when understanding their risk." A range of in-house referral options – from healthy eating workshops, to counselling – are available to staff that are looking for support with making lifestyle changes. Reflecting on how staff have responded to the overall offer, Rachel explained:
"They've really appreciated it, particularly recently with the virus. As we know, you're much less likely to be hit badly by Covid-19 if you're looking after yourself. Given all the stress that the NHS is under currently, staff have really valued the time just to take stock of their own health. Remote delivery has also meant that a lot of staff haven't had to travel across the site for their consultations, which has been well received."
Outcomes
In this section, we'll address the results from the staff that returned for more than one health check. This includes a total of 34 individuals, with an average of just over a year between appointments. The outcomes below refer to difference in results between first and last appointments. Headline findings include:
Reductions in obesity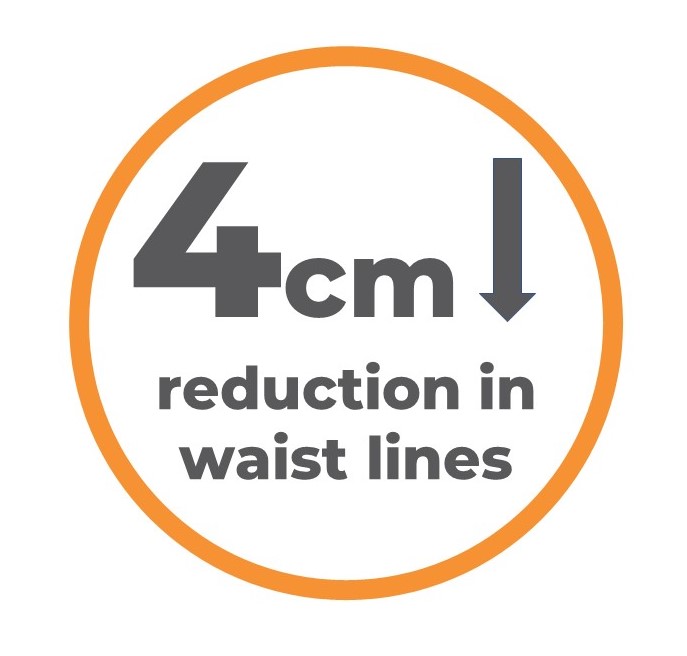 As has been widely publicised for a number of years, a significant proportion of staff employed by the NHS are overweight. According to a 2017 report, of the 1.3 million NHS staff, "nearly 700,000 are estimated to be overweight or obese". The health and wellbeing programme at YSFT has placed a particular focus on tackling this issue amongst the staff cohort in and around York.
Waist circumference offers a useful measure of obesity thanks to how it provides a clear indication of how much visceral fat surrounds the internal organs; an important factor in raised CVD risk. Between appointments, YSFT staff reduced their waist circumference by over 4cm on average. The impacts of this are not insignificant; according to research, "a reduction of about 4 cm in waist circumference" is associated with "a substantial reduction (almost 60%) in the risk of developing type 2 diabetes in high-risk subjects with impaired glucose tolerance".
The graph below shows the individual results for waist circumference, with the original results shown in blue and subsequent results shown in red.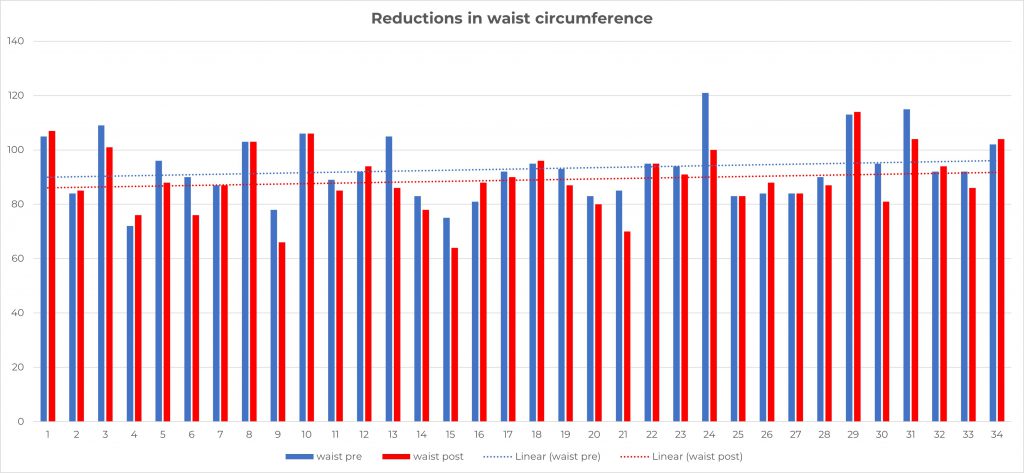 Improvements in blood pressure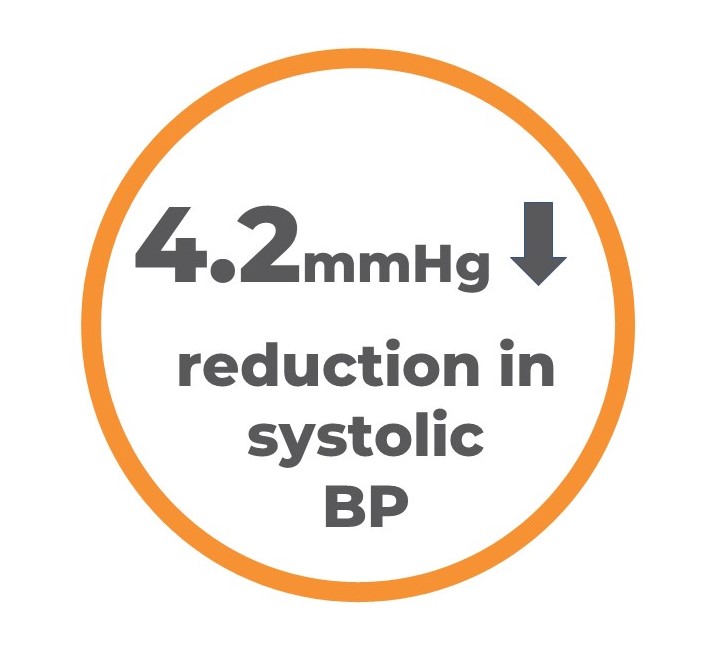 According to research into the global epidemiology of hypertension, high blood pressure is "the leading cause of cardiovascular disease and premature death worldwide". Systolic blood pressure has been found to be of particular significance. A recent systematic analysis of leading risk factors contributing to the global burden of disease has highlighted high systolic blood pressure as "the leading risk factor" for those aged 50 and above.
For YSFT, improvements in staff blood pressure have been one of the most important consequences of the Trust's health and wellbeing initiative. Insofar as systolic pressure is concerned, an average drop of 4.2mmHg has been observed. The impacts of this are potentially huge; research presented to the European Society of Cardiology Congress in 2020 has shown that a 5mmHg reduction in systolic blood pressure lowers "the relative risk of major cardiovascular events by 10%".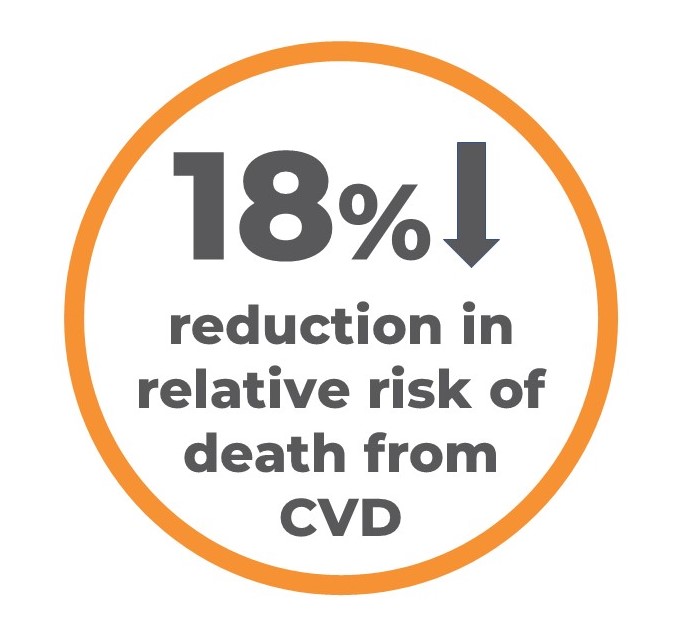 It's not only the systolic pressure of staff that has seen important reductions; diastolic pressures have also improved on average by 2.2mmHg. Such a reduction "of only 2.2 mmHg" in diastolic blood pressure is, according to Professor Antonio Coca, Director of the Vascular Risk Prevention Unit at the University of Barcelona, associated with significant reductions in "relative risk of cardiovascular death […] by 18% (P=0.03) and all-cause mortality by 14% (P=0.03)".
Drawing on these lines of research, it is prudent to assume that, based on the YSFT staff that have returned for more than one health check, significant reductions in cardiovascular events and associated mortality have been achieved.
Lowering of diabetes risk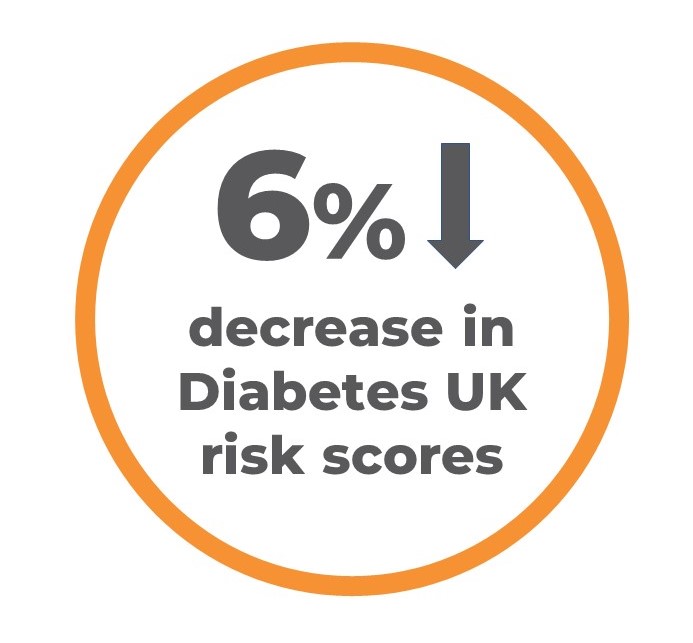 Diabetes is a growing epidemic nationally with more people than ever before in the UK currently diagnosed with the condition. What's more, if nothing changes, more than five million people in the UK will have diabetes by 2025. Given the number of NHS staff classified as overweight as mentioned above (a key risk factor for diabetes), this employee population may be particularly exposed to this rising incidence the condition and its serious long-term impacts on quality and quantity of life
Large waistlines and high blood pressure are further crucial risk factors for diabetes, so much so that Diabetes UK specifically ask for data on both to generate a diabetes risk score using their algorithm. Given the improvements to waist and blood pressure outlined above, it's perhaps no surprise to observe a 6% decrease in the average Diabetes UK risk score amongst YSFT staff.
Moreover, various lifestyle risk factors for diabetes and CVD have also undergone substantial improvements for the YSFT staff that received more than one health check. Physical activity levels, as measured by the General Practice Physical Activity Questionnaire (GPPAQ), increased by 5% on average. Whilst alcohol consumption levels, as measured by the Audit-C questionnaire, decreased by 7% on average.
Conclusions
The range of positive outcomes described attest to YSFT's approach to supporting the health and wellbeing of their staff. At a time when public health is as high on the agenda as it's ever been given the current pandemic, it's crucial that outcomes like these – achieved through the hard work of the likes of YSFT's Occupational Health & Wellbeing Team – are registered and that prevention is appropriately invested in. As YSFT have shown with clarity, we cannot afford not to prioritise this work at this time.