On the 1st March 2016, Public Health England (PHE) hosted the third NHS Health Check National Conference at London's Oval. With individuals attending from across local government, academia, business, and charity sectors, the turn-out was excellent and the conversations diverse. In this blog, we'll run through some of the conference's key highlights, signposting to the relevant places as we go.
The day got underway amid an atmosphere of excitement at the prospect of presentations that would be addressing key topics for those working on the NHS Health Check programme. Amongst the most keenly anticipated talks were those relating to the programme's emerging evidence base as well as plenary speeches by some of the foremost thought-leaders working in the NHS and public health.
Plenary speeches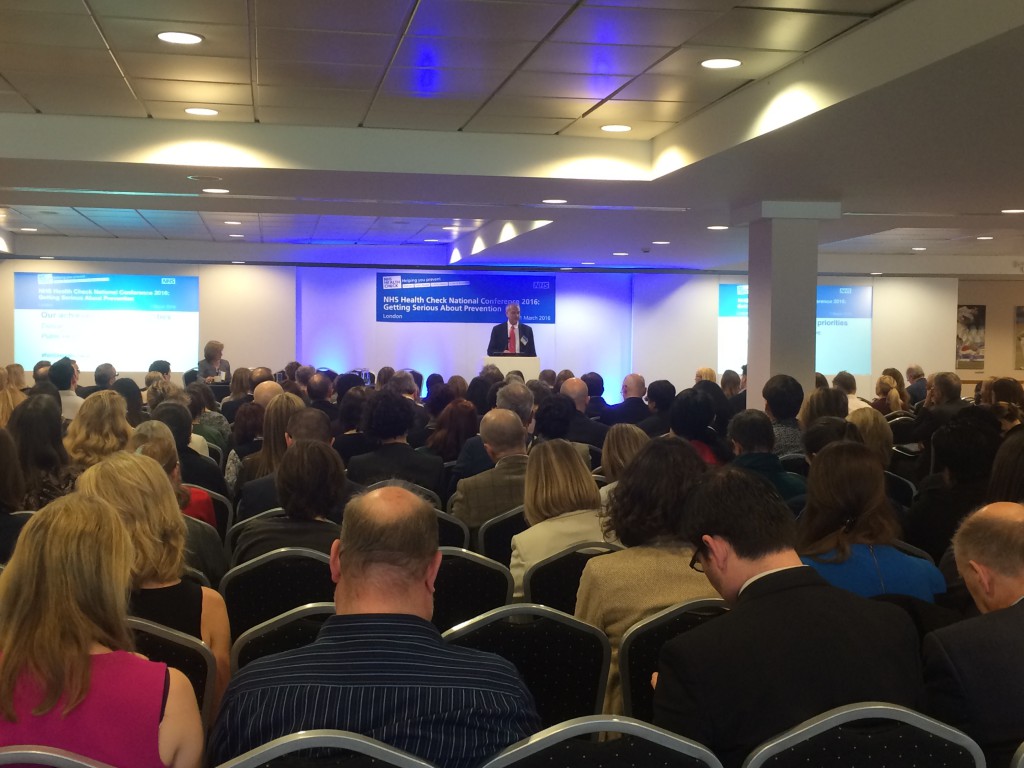 Featuring among the plenary speakers was Duncan Selbie – Chief Executive of PHE – who communicated the vision behind the NHS Health Check to a packed auditorium; a programme that, in his words, represents "the first at scale attempt in the world to take prevention seriously". Speaking with ambition and citing research that we'll discuss in turn, Selbie confirmed to delegates that the NHS Health Check programme was "the best thing we've done in decades" to prevent non-communicable disease.
Following Selbie's address was that of the NHS's National Medical Director, Sir Bruce Keogh KBE (pictured above). Pointing out that "we have to lead from the front in the health service", Sir Bruce outlined the measures being implemented by NHS institutions to improve the health of staff and patients. From a 20% sugar tax in hospitals to a £600m investment in promoting staff health, Sir Bruce's comments offered a welcome and pragmatic accompaniment to Selbie's strategic vision for prevention.
Alternative delivery models
Evident in much of what was discussed by the plenary panel of experts (pictured above) was, as Newcastle's Public Health Specialist, Lynda Seery pointed out, the importance of engaging with alternative community-based providers. This sentiment was echoed by another local project lead – Halton Council's Dr Ifeoma Onyia – during her presentation on whether health trainers can improve the uptake of lifestyle services. Describing how health trainers in Halton are going into GP practices to conduct NHS Health Checks, Onyia conveyed a particularly interesting delivery model which essentially integrates GP and community provision as a way to ensure that the programme functions as a gateway to lifestyle change. The results of Halton's evaluation speak for themselves; in Onyia's words, "Health trainers in primary care have resulted in a measurable increase in the number of people who are accessing lifestyle services as a result of a health check".
Emerging evidence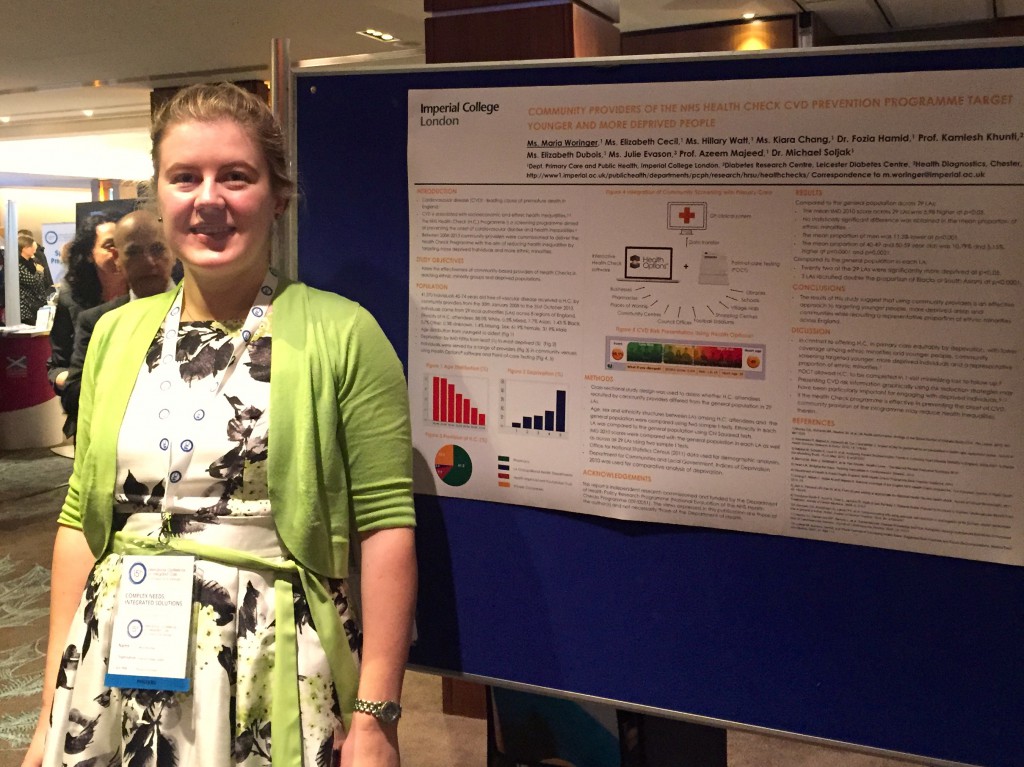 The benefits of using community providers was emphasised by much of the research presented at the conference and conducted as part of the Department of Health's National Evaluation of the NHS Health Check programme. As Maria Woringer (pictured above) – a researcher from Imperial College London – informed delegates, community providers have recently been found to effectively target younger and more deprived individuals as well as those at higher risk of cardiovascular disease. In other words, community providers are accessing precisely the sorts of hard-to-reach groups that stand to benefit most from improved lifestyles and increased health awareness.
Whilst Imperial College's research could be seen to focus on the 'what' and 'how' of NHS Health Check delivery, findings communicated by Dr John Robson of Queen Mary University unambiguously conveyed 'why' the programme is of central importance to England's public health strategy. In Dr Robson's words, "we've estimated that over the first five years of the programme, 2,500 cases of heart attack or stroke were prevented through treatments following the check". In addition, the programme helped "to diagnose commonly linked conditions, including type 2 diabetes, high blood pressure and chronic kidney disease". Robson's robust and eagerly awaited evaluation of the NHS Health Check's efficacy also went as far as to highlight the aspects in need of improvement, with uptake being identified as the main area requiring attention. Despite these current shortfalls however, Robson was also astute to point out that "the other option is doing nothing, and that is not an option".
Prevention campaigns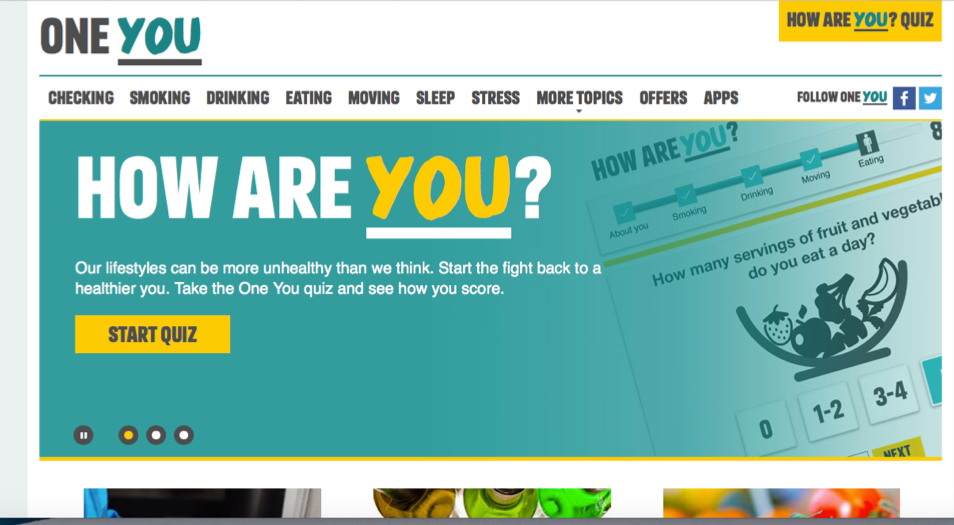 With so much at stake, organisations around the country are putting a renewed emphasis on the benefits of living healthier for longer. PHE are leading the way in this regard, with Professor Kevin Fenton using the conference to announce the launch of the One You campaign. Conceived of as a way to reach out to adults, #OneYou is a focused drive towards communicating the importance of getting and staying healthy. The target cohort is precisely the group that's eligible for an NHS Health Check and the national programme is specifically promoted via the One You website (pictured above). Take a look for yourself and complete the quiz to see how healthy your own lifestyle is.
A further exciting marketing development can be seen in the exposure that Coventry City Football Club are contributing with their latest advert promoting the NHS Health Check. Using Coventry City's 1987 FA Cup win as a vehicle with which to engage men in the 40-74 bracket, the advert tells the story of what the experience meant to those involved as players and fans. It poignantly ends with inter-generational images of families sharing their support alongside the message "Be there for the good times". Both original and compelling, the TV and internet campaign could potentially provide other councils across the country with ideas as to how they might go about engaging their own eligible males.
The market place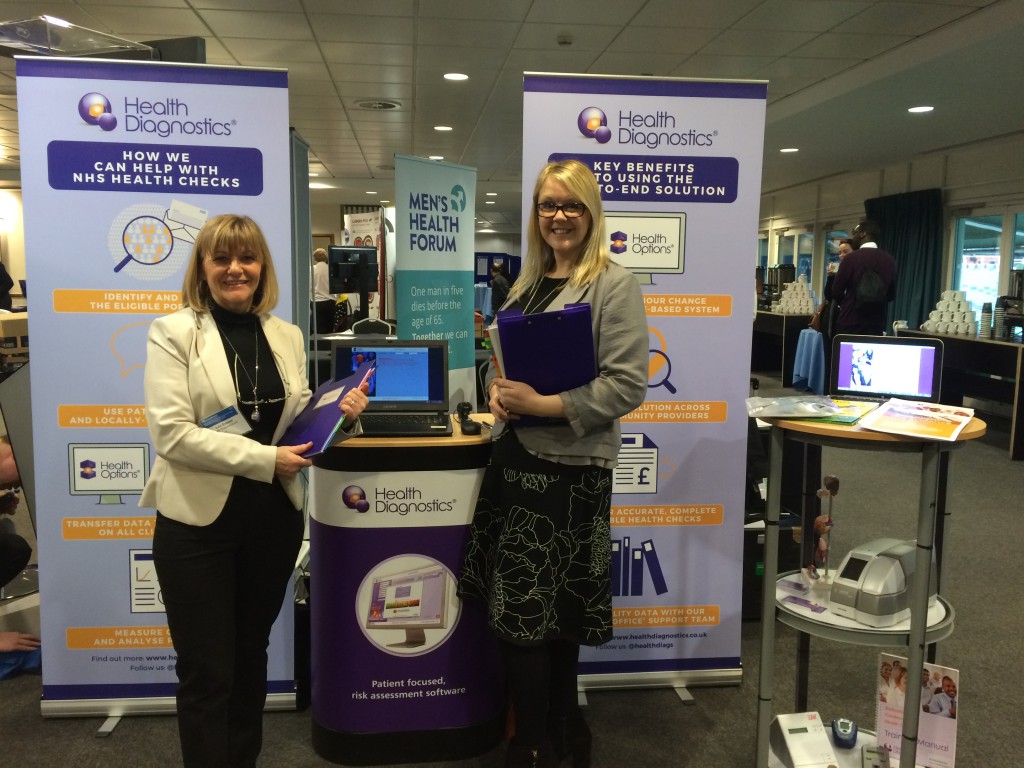 The market place was extremely busy this year with a large number of innovative organisations showcasing their support for the national programme. Health Diagnostics welcomed the opportunity to reflect with delegates who we felt were really engaged and committed to taking the NHS Health Check from strength to strength.
If you were at the conference but didn't get the chance to visit our stand (pictured above), we've made available an animation that summarises what we were speaking to delegates about. We were also giving out orange bags full of useful materials and information. If you didn't pick up an orange bag, however saw them and wanted one, get in touch with us; we'd be happy to send one on to you!
Until next year, best of luck with your work on the programme and please don't hesitate to get in touch with us if you'd like any more information on how we can help with NHS Health Checks!