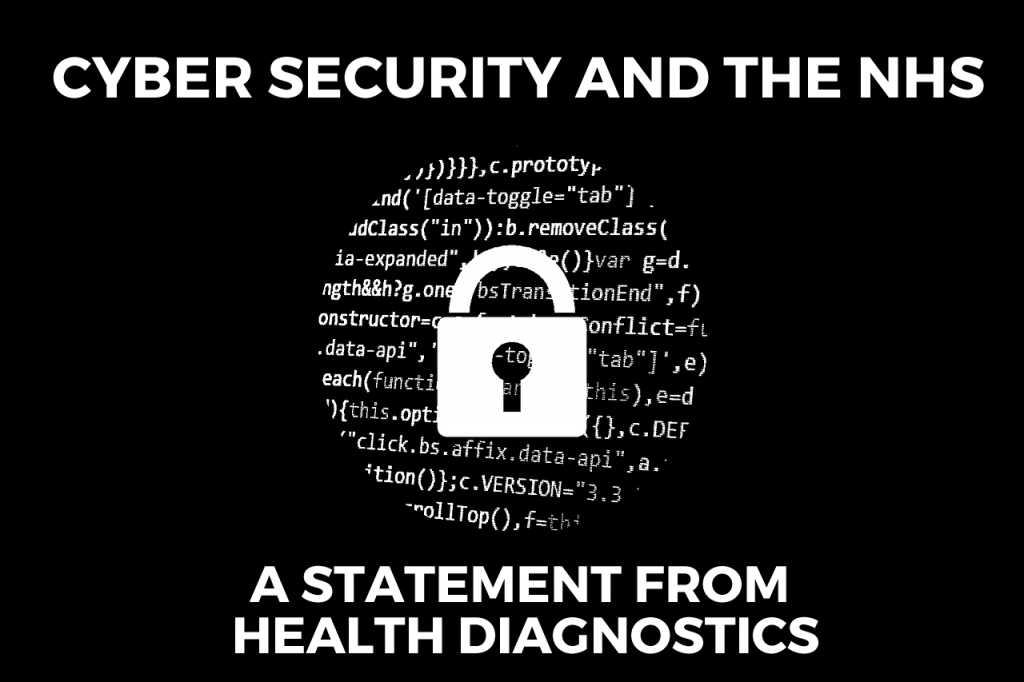 As you will no doubt be aware if you work in the health sector, the NHS was recently affected by a cyber-attack that is reported to have since spread to many other organisations, bringing about global repercussions.
This statement is to offer our partners assurances that Health Diagnostics have in place the utmost security protection from such attacks. No hosted data from any projects that we collaborate on with NHS and Government organisations has been compromised in any way as a result of recent events. We continue to remain on high alert and are working hard to ensure that this remains the case.
As a close working partner of the NHS and public health authorities, Health Diagnostics treat data protection as a matter of crucial importance. Indeed, our integrity as an organisation relies on our ability to assure unwavering support in this respect. Below is an outline of the technical detail and information governance standards that we have in place to guarantee protection against such security breaches:
Our most recent IGSoC audit conferred a score of 100% and level 3 compliance, demonstrating that the information governance standards in place at Health Diagnostics have been independently assessed to be of the highest quality.
Health Diagnostics have in place ISO27001 accreditation (certificate number: ISM7799129), which represents an industry gold standard in terms of information security management.
Health Diagnostics software and services are provided using the latest technologies. This enables us to keep our systems and services up-to-date with all current patches and therein to ensure uninterrupted service delivery.
Our data centre is protected by state of the art perimeter security devices which constantly monitor traffic in and out of Health Diagnostics' servers. This affords the maximum protection both to ourselves and our customers.
Health Diagnostics' business continuity plans give a return time objective of 24hrs and a restore point objective of 1 hour for all customer facing services and data.
Health Diagnostics use cloud services offered by UKFast and Microsoft for the purposes of business continuity. We can confirm that we have received assurances from these service providers that they operate to the same exacting security standards as Health Diagnostics and our partners would expect.
We are very proud to be able to support our partners to the standards that we do. Rest assured, we will continue to work tirelessly to ensure that the important work which is going into improving the nation's health and wellbeing can continue uninterrupted and in earnest.
The Health Diagnostics Team.