In response to the national NHS Health Check's conference theme of 'Improvement through Collaboration', this blog post documents our work with a local authority that are pioneering a host of innovative new delivery mechanisms: Wokingham Borough Council (WBC).
What was the rationale behind the collaboration?
Despite currently ranking as one of the healthiest local authorities in the country, WBC's performance on NHS Health Check delivery has historically been low. As Diane Farmer – Public Health Officer for WBC – explained, 'Diabetes UK queried this with us at the end of March; it was time to do something new and try something different'.
Reflecting on the rationale behind the procurement process they then embarked upon, Farmer described how 'Wokingham Borough Council members were keen to avoid using private companies to boost health check numbers by bussing nurses into the borough.' In addition to having 'no real control' over the quality of such a service, Farmer explained how 'the LA wanted to link in with the council's economic development team and create employment opportunities for local people interested and able to be involved'.
After considering a range of organisations and consulting public health specialists, WBC decided that 'Health Diagnostics stood out, particularly given the approach that the council wanted to take'. Whilst the project is still in the relatively early stages, WBC have engaged a range of providers to deliver the programme using Health Diagnostics' fully compliant delivery model. This diverse network of providers includes outreach teams, pharmacies (both independent and in local supermarkets), leisure providers and GP practices. In an effort to further broaden the delivery network, the council have even forged links with the Royal Berkshire Fire and Rescue Service who will be providing health checks in fire stations and at community events.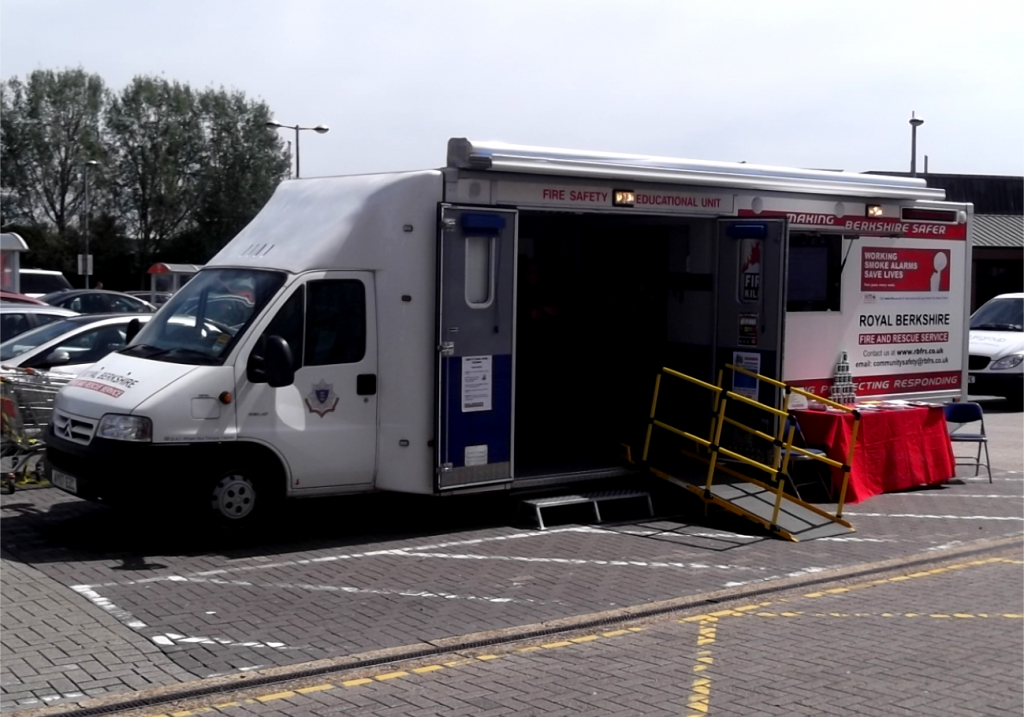 (Above: Royal Berkshire Fire Service's mobile health check unit)
Expanding the network of outreach providers in this way is not without its risks; a systematic approach is essential to ensuring consistency of delivery across a variety of settings and providers. This was a key consideration for WBC and, according to Farmer, the system that's been implemented is ideally suited to achieving this; 'everyone receiving a check is sitting with someone who's able to give the same messages and take the same motivational approach'.
Going beyond the face-to-face consultation, quality and consistency are key features of the data that's being captured by WBC's delivery teams. Using Health Options® software, outreach providers working across the council are able to securely transfer health check data electronically to patient records. This seamless transfer process has significant benefits for all parties involved. For patients, their data is immediately available on their GP's clinical system should any follow up be required. Providers avoid the cost of printing and posting the results. GP practice staff aren't required to re-key any data, saving time, money and the potential for error. The commissioner gets near real-time reports and analysis on all transferred data, allowing them to continually monitor local health trends and evaluate the service.
Whilst WBC are currently pioneering this joined-up approach within the local authority, there are also developments in the level of integration across Berkshire's LA borders; 'there are a large number of people living in Reading that work in other areas like Wokingham, and vice versa'. Through liaison and collaboration with their Reading colleagues, WBC's public health leads are seeking to ensure that anyone receiving a health check at their place of work in Wokingham for example, will know that their results can be transferred to their Reading GP. The two councils will also be raising the profile of the local programme by running promotional events at Reading Football Club in conjunction with Berkshire's Fire Service. Through developing this kind of joint working, the councils are aiming to guarantee that every contact – across the region – truly counts.
What does the patient get?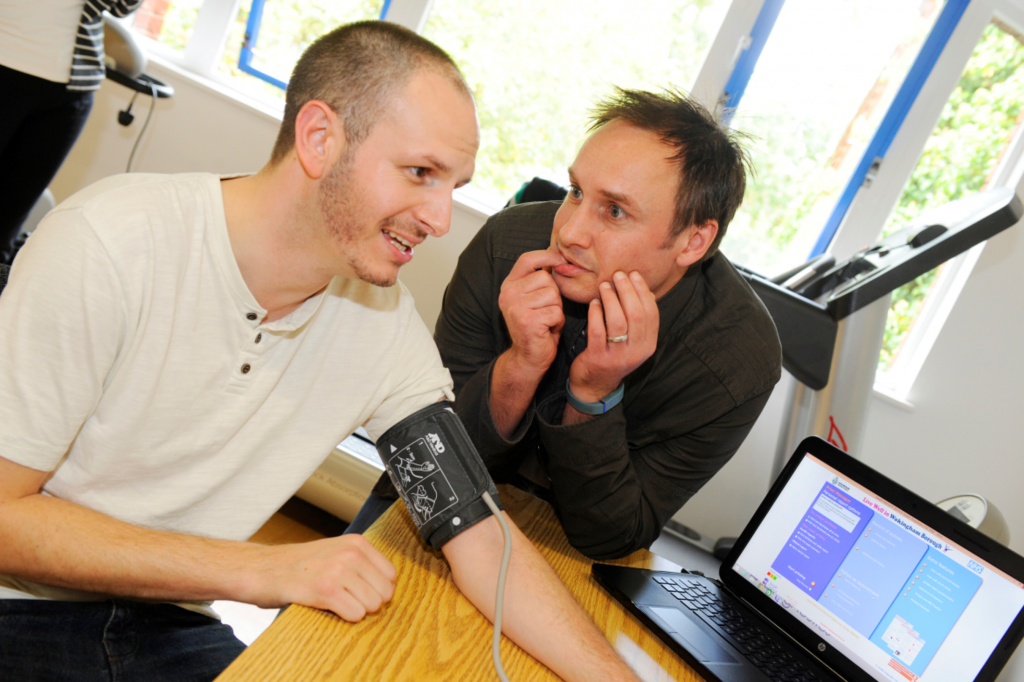 (Above: A provider attempts to send a patient's blood pressure up during an awareness raising event)
Regardless of where the patient has their health check, a completely consistent service has been rolled out across WBC. From GPs to outreach providers, the software, structure and overall standard are all designed to conform to the same rigorous specifications.
Constructed in accordance with WBC's branding, Health Options® software guides both patient and provider through an interactive health check. The test screens are designed to be shared by both individuals and any high-risk lifestyle behaviours are automatically flagged. A host of hints, tips and health information are on hand to aid with any discussions. The software also captures and securely stores all essential data.
Having gone through the tests that comprise the NHS Health Check, the patient is presented with their CVD risk score. In accordance with the latest evidence on communicating risk, this likelihood of suffering a heart attack or stroke over the next ten years in conveyed to patients through intuitive icon arrays, 'heart age' calculations and simple to understand betting probabilities. The health messages that patients receive are therefore far from generic; the harms of certain lifestyle behaviours are communicated on uniquely personal and accessible terms.
By way of facilitating a consultation that's consistent with the principles of Motivational Interviewing (MI), WBC's providers are able to manipulate a 'what if you change' scenario. This tool gives the patient an immediate idea of the potential effects that could result from any lifestyle change; the shared decision-making process is also significantly enhanced as a result.
Patients leave their health check with a detailed personal report that contains their results and tailored information on lifestyle support services available in WBC. Any individual goals they may have set are also restated in the report and further information is provided on the conditions tested for during the health check.
On the subject of what patients take away with them, Diane Farmer explained that 'people have said that they feel like they've been for an expensive private check thanks to the quality of materials they leave with!' This was emphatically confirmed at a recent health check event in Wokingham when a client approached the organisers to tell them that she thought they were doing an 'amazing thing' and how she hoped it was 'rolled out more widely; it's an invaluable service, particularly with people able to take away their personal report and results'.
For any WBC residents between the ages of 40 and 74 who haven't got a pre-existing condition and have not had an NHS Health Check in the past five years, the opportunity to get informed and discuss your options is there to be taken.
What does the provider receive?
Training WBC's delivery teams to use the system to conduct patient-centred health checks represented an important early step in the local rollout. Health Diagnostics trainers travelled to the borough to run a number of one-day courses on-site for the groups that would be delivering. Covering the full range of topics – from background CVD theory and accurate testing technique, to operating Health Options® software and using brief MI techniques – the course offered WBC's providers the overview and detail they need to deliver the programme effectively.
Once out in the field and conducting health checks, the software is full of features that are there to support providers during consultations. From being prompted when a referral may be appropriate, to being able to pull up easy-to-understand 'help screens' for support in conveying clear information about what's being tested, the LA's providers have a purpose-built tool to help deliver high quality health checks regardless of IT experience. The personal CVD risk graphics are of particular relevance when providers are working with patients to establish lifestyle goals. This shared-decision making process is focused on in more detail in the accompanying blog post on Motivational Interviewing and the NHS Health Check.
In addition to the software's built-in help screens, Health Diagnostics' telephone support teams are on hand to respond to any queries and help WBC's providers with the administrative elements of the service. Essential admin tasks such as safely managing patient-identifiable information and securely uploading this health check data to GP clinical systems are amongst a host of activities that providers are closely supported on. These processes collectively go in to making sure that, as Farmer pointed out, 'all the data gets round the cycle and everything's accounted for.'
The software allows for small-scale individual analyses so that providers are able to review their own performance. A much more in-depth and wide-ranging analysis is provided to the commissioner; this is detailed in below.
How is the commissioner supported?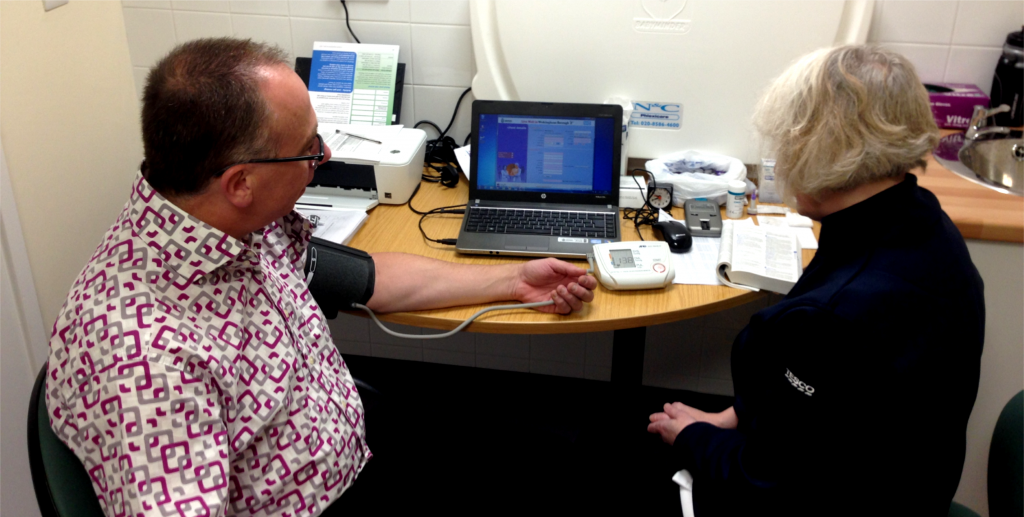 (Above: WBC's Public Health Consultant has a health check using the new system)
From the start of the set-up period, to the public rollout of the programme, WBC were able to get their project up and running in less than 4 weeks. Responsiveness and flexibility were crucial to Health Diagnostics meeting this tight turn-around deadline. Having worked on NHS Health Check projects since the scheme was introduced in 2009, Health Diagnostics were able to bring to the table substantial experience of delivering on these sorts of requirements. This accumulated learning meant that templates for essential documentation were readily supplied, local demands were swiftly met, and information was on hand as to what has worked in other councils across England.
With only Diane Farmer tasked with the responsibility of orchestrating the implementation of WBC's programme, a support network was required to take care of the essential, yet time-consuming background configuration. Responding to this need, Health Diagnostics have functioned as the council's 'back office', allowing Farmer to focus on WBC's public health agenda.
An ongoing aspect of this back office function is that Health Diagnostics provide WBC's public health directorate with monthly reports containing detailed analyses of provider performance and local health trends. This ability to report on the project, its findings and its effects, is closely related to the electronic patient data transfer process that WBC have put in place. In addition to ensuring that health check data is sent to patient records regardless of the clinical system in use, Health Diagnostics close management of the data means that it can be investigated and reported to commissioners on an anonymous basis.
Further to monitoring the patient data flowing through the system, WBC's work force competencies scheme means that project leads have access to information on the number of checks that providers are conducting. Commissioners are also kept informed of how providers are complying with the mandated testing standards thanks to the external quality assurance programme that Health Diagnostics coordinate in conjunction with the Royal Bolton Hospital.
The relationship between Wokingham Borough Council and Health Diagnostics is conceived of as a close partnership; whilst Health Diagnostics provide information, expertise, systems and support, those working within the local authority are freed up to focus on coordinating the local public health strategy. This is the proven method that Health Diagnostics are uniquely able to offer. For more information about the ways in which it has been successfully deployed in countless areas across England, contact info@healthdiagnostics.co.uk.