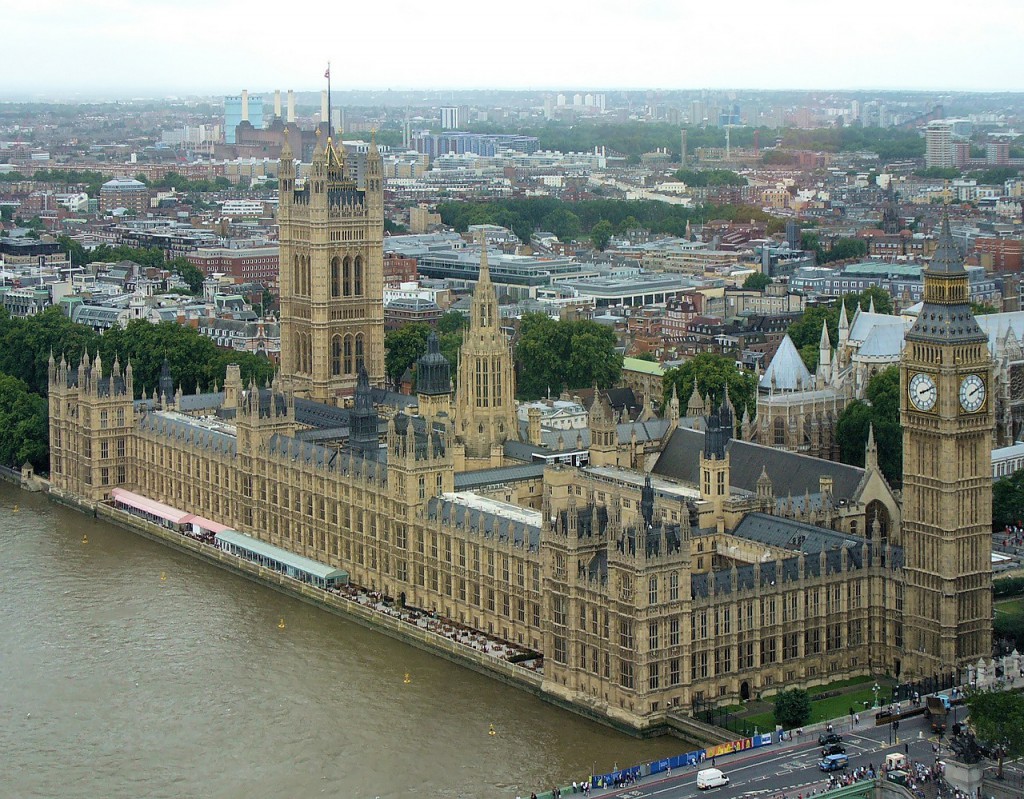 The context within the Tri-Borough area
With some of the highest average house prices in the UK, the Tri-Borough area in Central London (which includes Kensington & Chelsea, Hammersmith & Fulham and Westminster) is firmly associated with affluence in the minds of most people. The fact that you'll need an average of £1,200,000 to buy a house in Kensington for example, goes some way towards supporting this perception. In many ways however, these house prices, ludicrous as they be, really only tell half the story.
According to London's Poverty Profile, these three boroughs also have amongst the worst health inequalities in all of London. Focusing on Kensington & Chelsea's local life expectancy data paints a radically different picture to the impression given by the house pricing index, with males in the least deprived parts of the borough living, on average, over 8 years longer than men in the most deprived parts. According to these statistics, the borough is the most unequal in London, with Westminster a close second and Hammersmith & Fulham coming seventh out of thirty-two (see starred boroughs on graph below).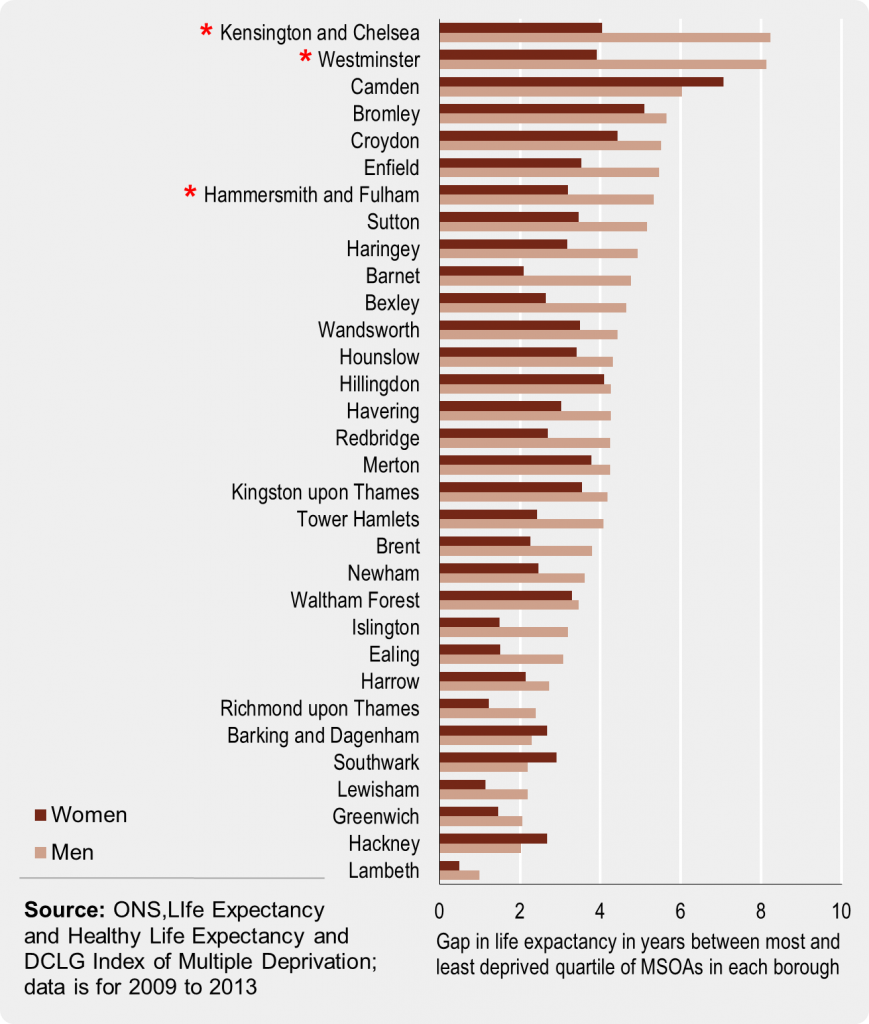 Recognising the challenges facing local public health authorities, the three councils have joined forces to, in their own words, focus efforts "on the things that we believe will make the biggest difference to the health and wellbeing of our residents, and the things that will improve the health of the people who need it the most the fastest". The stated number one priority in this respect involves the explicit acknowledgement that local "health inequalities can only be tackled through focused efforts across all services that address the determinants of health".
Whilst, on the social scale, everything from housing and planning, to education and employment is implicated here, the councils have also gone to great lengths not to miss the opportunity to intervene at the individual level by "supporting communities and people to be healthy, independent and self-manage conditions". One of the key ways in which this is being done is through the deployment of a targeted community NHS Health Check programme.
Co-ordinating an NHS Health Check outreach service
In addition to the Tri-Borough's GP practices and a small number of pharmacies, fifty-five outreach staff from two organisations – Turning Point and Living Well – make up the London Health Trainer Service. These teams deliver NHS Health Checks in a diverse range of community venues and place a particular emphasis on reaching out to the groups that don't traditionally engage with primary care. The thirty-minute consultations which focus of lifestyle and cardiovascular health are fundamentally person-centred, with all read-coded data subsequently sent electronically back to the person's medical record. We caught up with Sarah Lee – Operations Manager for the Tri-Borough's outreach teams – to get her take on the key challenges and opportunities facing providers of community public health initiatives such as this.
"Having worked in this area as a health checker myself, I'm very conscious of what front line staff from are delivering and the challenges they face", explained Lee. "In essence, we're really trying to get out there, to break down barriers, and to support people to become more aware of their health and the things they can do to change it". According to Lee, "the bottom-line is really all about providing an alternative route to empowering lifestyle change".
Reflecting on the suitability of organisations such as Turning Point to contribute to these kinds of public health initiatives, Lee observed that, despite NHS Health Checks being a relatively new addition to what Turning Point offer, having had over fifty years-experience working with individuals with substance misuse issues, the organisation is well-placed to approach consultations in such a way as to "help people to find a new direction on their journey". In Lee's words, "we're not an advice service, we're about offering guidance and support. Most of the time people do have the answers themselves if you give them the time to really think about their health; about where they are and where they want to go".
As many working in preventative health will recognise, this approach is one that's closely aligned with the theory and practice of Motivational Interviewing, a style of counselling that fundamentally encourages the patient, not the practitioner, to articulate reasons for change. The approach, having been originally developed in the 1980's through work with people that had alcohol and addiction problems, has since been shown to be more effective than traditional advice-giving in around 80% of situations. It's through the extensive use of these techniques that London's Health Trainers are, as Lee explained, able to "put the person in the driving seat and in doing so, encourage them to take real ownership of their health".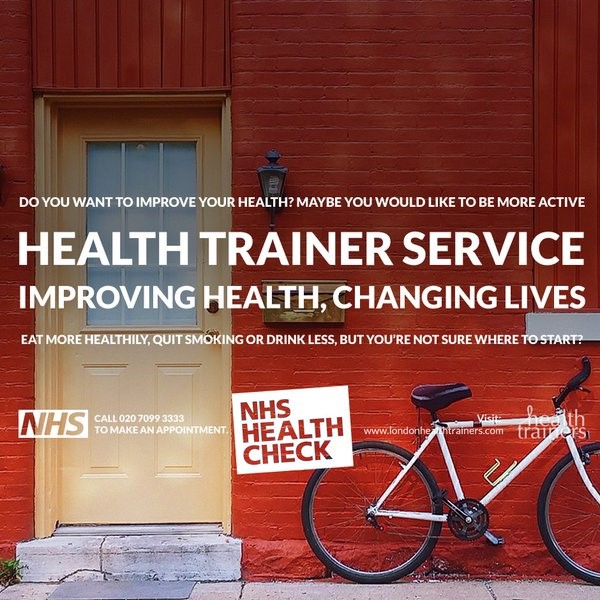 The practicalities involved
A significant challenge facing London's Health Trainers is the fact that the very same people that stand to benefit most from this sort of consultation (such as heavy drinkers and smokers) are often, according to the research, precisely those that don't use primary care services and ultimately end up contributing to the widening health gap outlined at the start of this article. The question therefore arises: how can community providers effectively make meaningful contact with the people that need it most?
According to Sarah Lee, two of the key ways in which this is achieved is by (1) employing staff "that are passionate about reaching out to people", and (2) ensuring that those staff "are easily mobile, with everything they need in a portable, self-contained unit". If you're able to do so, Lee explains that "the phrase 'hard-to-reach' really loses any substance. In my experience, nobody is hard-to-reach if you go to them, meet them where they're at, and demonstrate that you're there to support them with their priorities. People are only hard to reach if you don't re-think your strategy and continue providing services in fixed locations".
This approach to delivery has taken London's Health Trainers into an extremely wide array of venues and settings, including:
Workplaces
Libraries
Community centres
Gyms
Job centres
Homeless hostels
Local fairs and events
Pharmacies
Schools
Colleges
Sport centres
Theatres
According to Lee, "no setting is off-limits so long as we can carry out a risk assessment and create a confidential space by putting up portable screens. We can and do set up pretty much anywhere".
This unlimited set of potential working environments means that a diverse range of different people and communities are frequently encountered by London's Health Trainers. Not only does this require flexibility on the part of the delivery teams, it also means that being able to gain the trust of different people and communities is an important skill. As Lee explained, "often, when going into community groups, we encounter suspicion as to whether we're there to help the people or are actually just 'checking up' on them. You've really got to be patient, persistent and accept that building trust – particularly with influential members in a group – is going to be a key part of the job in hand. So much about delivering this service relies on being able to build bridges".
A further pertinent challenge that requires careful reflection is, Lee explained, "understanding whether or not the individuals you're seeing are ready to regard their health as a priority". As has been encountered by staff at Turning Point, this can be particularly relevant when engaging with homeless hostels. "What you sometimes find with people who haven't got anywhere to live is that their priorities are to find a home, get a job and earn some money. These are often higher up the agenda than their health and indeed, all have massive implications on health in their own right", explained Lee. For the delivery teams, it's crucially important that communication to these individuals is clear and empathic; "you've really got to convey that getting informed about health will mean they're in a much better position to do something about it when they feel ready".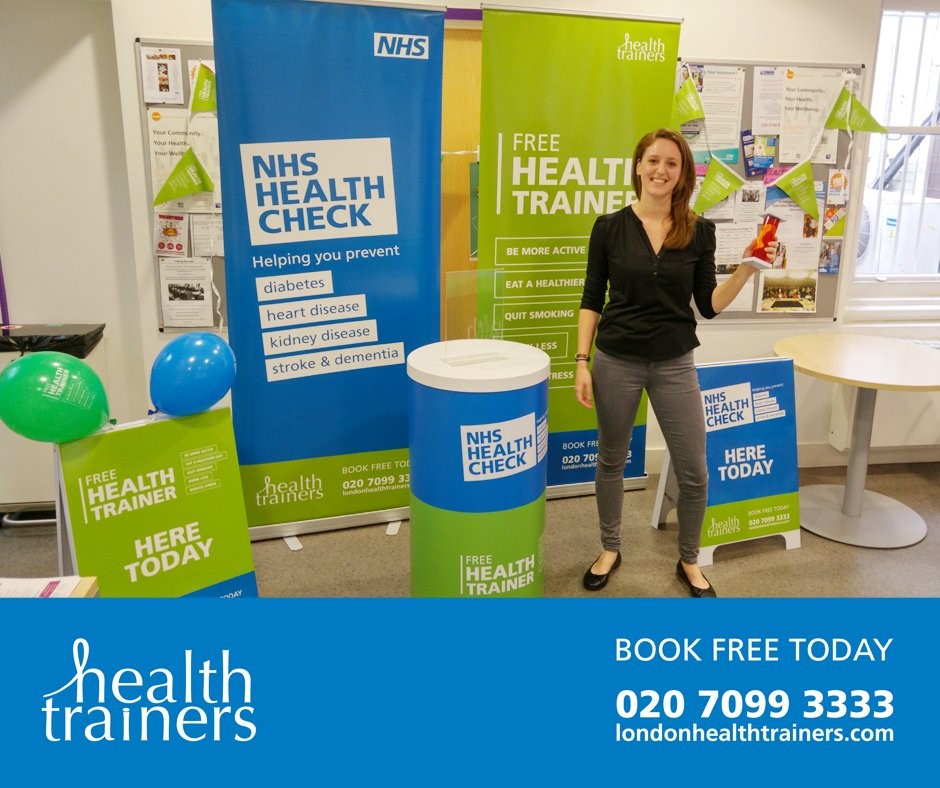 The IT solution supporting the programme
With effective communication occupying such a central position in the outreach programme, the IT tools used must be able to promote engagement in a way that is, first and foremost, person-centred. According to Sarah Lee, this is precisely what the commissioned system – provided by Health Diagnostics – has brought to the table. "It's really interactive and fantastic at helping to break down the jargon that can surround health and alienate a lot of people. The health checkers find Health Options® software to be very supportive, particularly with all the visual aids and prompts that it contains". With the community teams delivering hundreds of health checks across the three boroughs every month, such digital tools constitute an important piece in the puzzle of how every single contact is being truly made to count.
Regardless of how intuitive and user-focused the tool however, when reaching out to people that don't routinely engage with primary care, there is the ever-present concern that without a considered approach to follow-up and referral, health checks run the risk of being isolated events with fleeting consequences. Whilst valuable information may be imparted, for those in real need of the support, NHS Health Checks must offer a gateway to sustained lifestyle change. In order to maximise their impact, Health Diagnostics' IT solution allows Tri-Borough's health checkers to make referrals to local lifestyle services and return all read-coded data electronically to the person's medical record on their GPs clinical system. As such, integrated service provision is increasingly a reality across this collaboratively-minded three borough area.
Final words
With the NHS and secondary care reported to be in an almost constant state of crisis, the need for preventative health services such as the one outlined here – services that focus on reaching people and improving lifestyles before problems occur – are of crucial importance. As it was uncompromisingly put in the NHS's Five Year Forward View:
"If the nation fails to get serious about prevention then recent progress in healthy life expectancies will stall, health inequalities will widen, and our ability to fund beneficial new treatments will be crowded-out by the need to spend billions of pounds on wholly avoidable illness."
Whilst the stakes are high in this respect, there are also significant opportunities in this arena. Many of these are connected to the rapidly changing nature of technology and how we, as citizens, interact with our healthcare. As it was succinctly put in the Five Year Forward View, "people wish to be more informed and involved with their own care, challenging the traditional divide between patients and professionals". Sarah Lee, in recognising and fully supporting this shift, explained that "one of the main things we emphasise to the people is that it really is okay expect access to your health information. I've encountered too many instances where people assume it's their GPs responsibility to know, for example, what their blood pressure is and whether or not it's healthy. We want to say that it absolutely is their information and completely okay to ask about".
In many ways, much of the agenda promoted by London's Health Trainers, as well as the majority of what has been covered in this piece, revolves around one simple word that carries with it profound implications; empowerment. The logic is that, in order to help individuals hold an active and empowered role in shaping their health and wellbeing, generating an informed awareness of their current situation is a vital first step. As Lee observed, "in gaining this awareness, a baseline is established as a foundation on which to build. You're not left stabbing in the dark and you're more likely to make progress". As the proverb goes, "without knowledge, action is useless". Through their community outreach work, the Tri-Borough's NHS Health Check providers are systematically opening up this threshold to action.