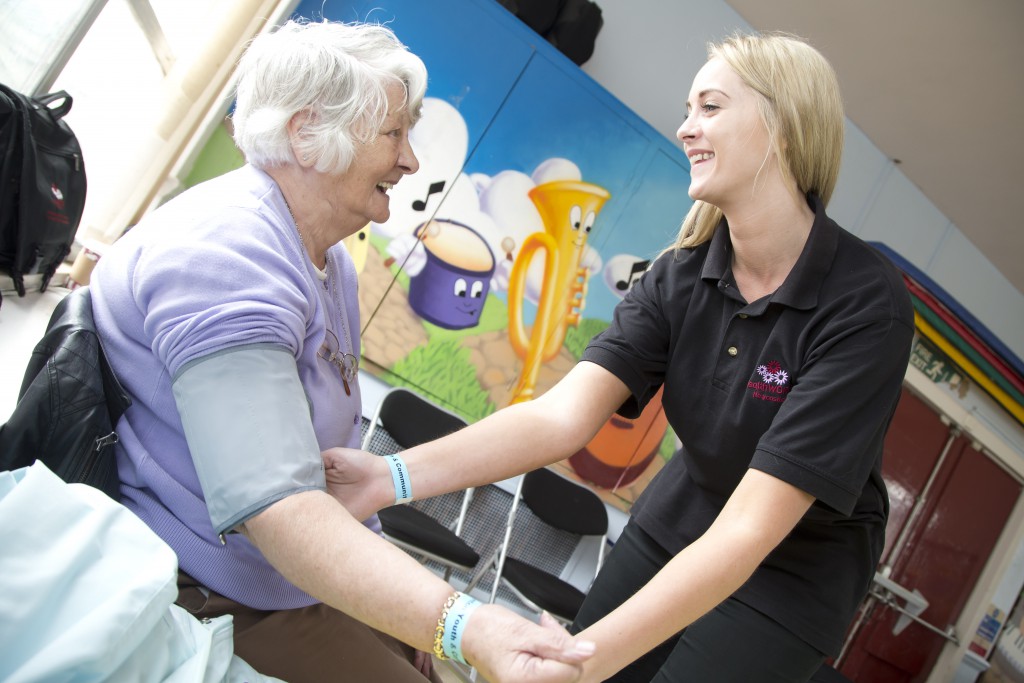 "Central to improving people's health and well-being is empowerment of individuals and communities". This is the basic argument of Sir Michael Marmot's new book The Health Gap and one that is eminently understood by those pioneering public health services in Newcastle. With high rates of non-communicable disease however (Newcastle is ranked 127th out of 150 English local authorities for premature mortality), the need for innovative pubic health services is as great as anywhere in the country.
One of the people chiefly tasked with coordinating these services is the council's Public Health Specialist and NHS Health Check Lead, Lynda Seery. In addition to her local work, Seery also sits nationally on a number of committees that provide expert and clinical advice around public health strategy. In an exclusive interview for Health Diagnostics, Seery outlined her vision for Newcastle and explained how and why health checks have a central place in the picture.
"It can be so difficult to change our lifestyle habits and behaviours" explained Seery; "we fall into routine, they become engrained and we just get stuck. The potential of the health check is that it gives you an opportunity – a moment in time – to raise awareness, find out what health issue the person is most worried about and understand where they feel they need help."
Historically, Newcastle ran their NHS Health Check programme solely on the basis of a 'call and recall' system whereby people were invited in for a consultation by their GP. "Whilst being an extremely useful delivery mechanism, we found that it wasn't fulfilling everything we wanted for our local populations" explained Seery.
An important limitation of this approach was that it did little to affect the traditionally low uptake in the city's more deprived areas. As Seery outlined, "these areas are home to some of the people that we're most concerned about. Whilst the GPs play a crucial role in our programme, we saw that we also needed to widen the net and work proactively with our vulnerable groups. What was needed was for us to go out and meet people in their own settings."
To this end, Seery commissioned Newcastle United Foundation, local charity HealthWORKS (case study available in this post) and a number of pharmacies to broaden the reach of the programme. With a proactive ethos that centres around face-to-face interaction, these local outreach teams are accessing those most in need and are having a profound impact therein. Indeed in Newcastle, 48% of all the health checks delivered by outreach providers are carried out in the most deprived parts of the city (as defined by the top two deprivation indices). Putting this in perspective, only around 40% of the city's areas fall within these bandings.
As the data shows and as Seery reaffirms "Newcastle's outreach teams really excel in this kind of work. They're such an enthusiastic group of people and they provide an amazing range of follow-up support after the health check." Harnessing the NHS Health Check as a case-finding mechanism, these outreach teams are effectively using the programme as 'a gateway' into their range of lifestyle support services. For example, Newcastle United Foundation go out to communities in their recognisable health bus (pictured below) to deliver consultations that are both highly professional and motivational. The Foundation then continue to work with the families and young people in those communities to increase activity and encourage healthy choices.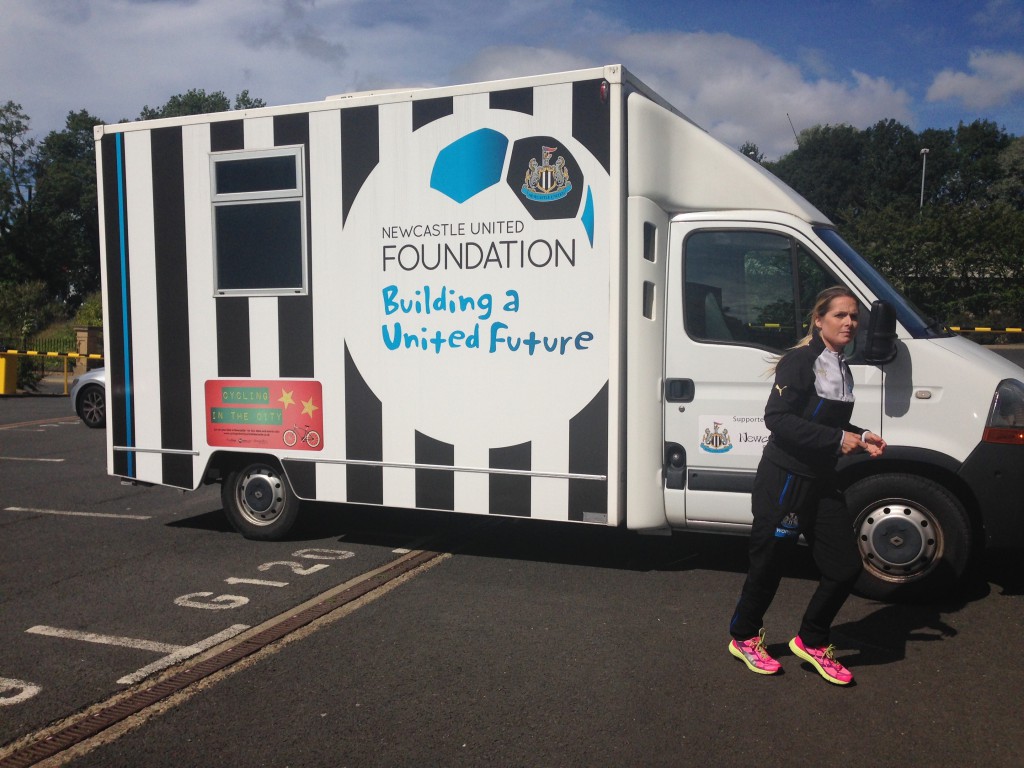 In addition to their opportunistic work, Newcastle's outreach teams are also heavily involved with supporting the City Council's healthy workplace scheme. As the North East's commercial centre, and with a large number of Newcastle-based organisations signed up to the North East Better Health at Work Awards, there's has no shortage of appetite for occupational NHS Health Checks amongst the city's workers.
Recognising this enthusiasm for workplace well-being, Newcastle's public health directorate have taken the innovative step of forging links with local trade unions. In doing so, the council have been able to encourage wide-spread involvement in the workplace health check programme by reaching out to local union membership. Seery explained: "The TUC are brilliant. They engage with a lot of organisations right across the region and have a huge amount of energy. Our collaboration has gone onwards and upwards and now they're really key to our approach."
Having run extensive projects with a local HMRC facility that employs 14,000 people and conducted health checks on Newcastle's 600 eligible police men, the council – with the help of local outreach teams – are now engaging with the city's taxi drivers. "They represent an important group for us" said Seery. "A lot of our taxi drivers are males in the at-risk age-group. They're doing a very sedentary job with unusual hours and, based on observation, a lot of them smoke." Through joined-up thinking however, Newcastle City Council have been able to offer accessible health and well-being support to this traditionally 'hard-to-reach' group.
All of the health checks conducted in the city, and indeed the vast majority carried out across the North East region, are done using Health Diagnostics IT solution and Alere's LDX point-of-care testing analysers (combination used in image below). Having formed a close three-way working relationship, the local councils, Health Diagnostics and Alere all collaborate in order to achieve absolute quality and consistency of delivery. On a very practical level, this arrangement means that people receiving a health check only need to attend a single appointment; LDX analysers immediately feedback accurate results and Health Diagnostics' software – Health Options® – offers a powerful tool with which to communicate an individual's risk. As a working method, this has proven results. According to research carried out at Durham University, community providers using the systems are "particularly successful in engaging men and younger age-groups". In other words, these are effective tools with which to engage some of the hardest-to-reach groups.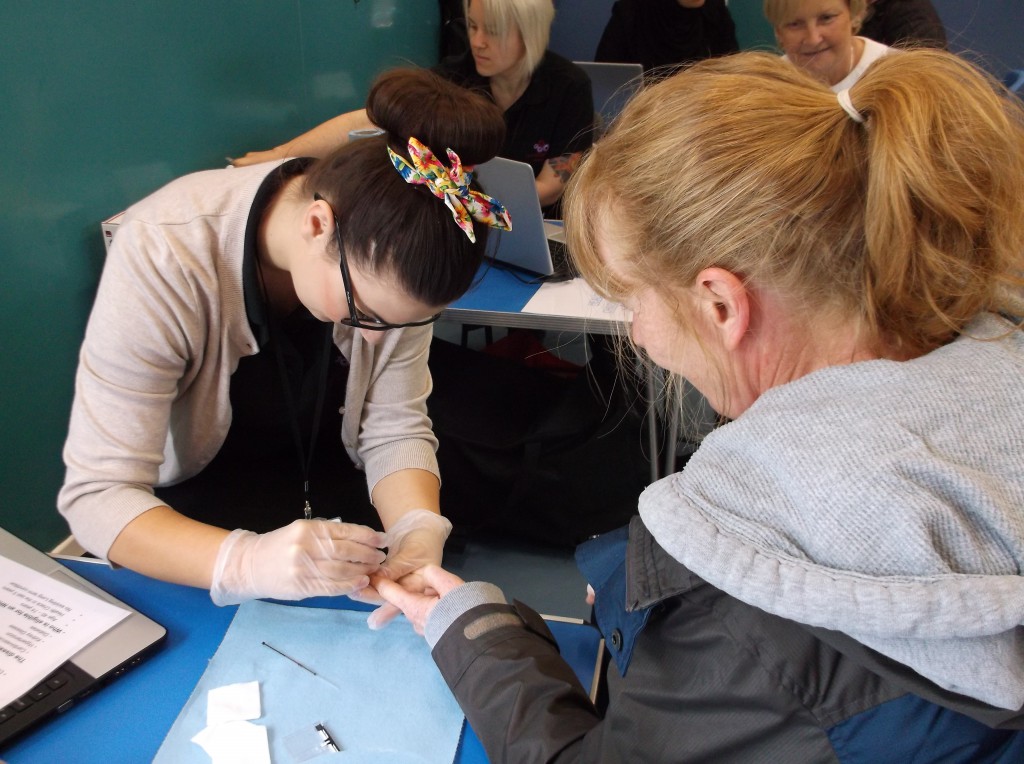 When asked about the benefits of using Health Diagnostics' IT solution, Seery explained that "having looked at what was available, Health Options stood out as a really friendly and intuitive system that's actually quite different to anything else out there. When you go to a GP or a hospital, there's often a screen or some way of recording clinical information that separates the patient and clinician. Crucially, the patient frequently isn't privy to what's being recorded. You don't find that with the Health Options; both people share the screen on an equal basis. You go through it page by page and the person having the health check is fully involved in the whole process. It's very patient-focused and actually quite innovative."
Importantly for Seery, the software gives a reliable structure to the health check. This has the effect of ensuring absolute consistency of delivery across providers and moreover, because the software gives notifications if follow-up action may be necessary, providers are not having to make these judgements themselves. Providers can therefore easily take a non-judgemental approach to discussing a person's lifestyle.
Thanks to Health Options' interactive nature and the fact that it's been designed in line with the principles of behaviour change and motivational interviewing, the software plays an important role in helping to create profoundly empowering consultations. Of course, the extent to which someone feels empowered will largely hinge on whether the provider is able to listen with respectful curiosity and help the individual identify their own concerns and priorities. However, with Newcastle's outreach teams shortlisted for the award for 'Best Impact on Patient Experience' at the 2015 NHS Health Check Awards, there can be no doubt that there's been devised a way of delivering the programme that is both technologically advanced and fundamentally human.
In this sense, the local health checks and follow-up lifestyle support is crucial to the City Council fulfilling the idea that this article opened with; that "central to improving people's health and well-being is empowerment of individuals and communities". In Lynda Seery's own words, "populations are made out of people with all different ideas and approaches. If we can keep going in there and talking to people about their own health on their own terms, I know we can make the difference." It's exactly this community-minded and grass-roots approach that has put Newcastle City Council's Public Health Team amongst the thought-leaders in this area.