Our 'TOP picks' for Public Health England's 2019 CVD Prevention Conference in Manchester
The current status of CVD in the UK
One of the positive public health stories to emerge over the past few years has been the fact that cardiovascular disease (CVD) mortality in the UK is declining. Research suggests that total CVD mortality declined by 68% between 1980 and 2013, with similar decreases seen for coronary heart disease and stroke. Despite the improvements however, these figures alone do not tell the whole story; hospital admissions for CVD have steadily increased over recent years and experts note that, whilst mortality levels may have declined, CVD prevalence in fact shows little evidence of change. The clear implication is that the nature of the UK's CVD burden has evolved as people live longer with the disease and often in ill-health.
The economic impact of the current picture is that it costs the UK around £15 billion every year. What's more, despite the reduction in CVD related mortality, the disease is still a major killer, accounting for around a quarter of all deaths. Crucially, the social impacts of CVD are distributed extremely unevenly. As Public Health England note, premature death rates from CVD in the most deprived 10% of the population are almost twice as high as rates in the least deprived 10%. As such, the condition is a key contributor to one of the great injustices of our time: why, on average, a boy born in one of the UK's most affluent areas will outlive one born in one of the poorest by 8.4 years.
These are some of the key drivers behind why the recently published NHS Long Term Plan (LTP) has CVD prevention at its very heart. As Dr Matt Kearney, NHS England's National Clinical Director for Cardiovascular Disease Prevention, writes "In addition to substantial commitments to tackle obesity, alcohol and smoking, the Plan includes a major ambition to prevent 150,000 strokes and heart attacks over the next ten years by improving the treatment of the high-risk conditions – hypertension (high blood pressure), high cholesterol and Atrial Fibrillation (AF)." It's for these reasons that the LTP is being hailed as a true "game changer". Nowhere is there likely to be more widely welcomed and keenly discussed than at this year's Cardiovascular Disease Prevention Conference, taking place this Thursday, 14th Feb at Manchester United's stadium.

CVD Prevention Conference 2019: Health Diagnostics' 'top picks'
This year's conference, the sixth of its kind, promises to be the largest to date, with over 500 confirmed delegates, a raft of talks from key thought-leaders, and a market place where the latest innovations are being showcased by organisations working within the health and social care space. Health Diagnostics, who are a sponsor of this year's event, will be in amongst the exhibitors. Our team of representatives attending the event are excited to link up with colleagues and friends to discuss the vital subject of how, together, we can further drive outcomes in cardiovascular disease prevention and the NHS Health Check. We asked our team what they're most looking forward to; read their responses below!
Julie Evason

"There's a great line-up of speakers this year and I enjoyed Dr Dawn Harper's chairing of the event last time it was in Manchester a couple of years ago. If I were to pick one of the break-out sessions that I'm interested to listen to it would have to be 'Thinking outside the box: getting the most from the NHS Health Check programme'. Health Diagnostics are getting more and more involved with supporting exciting and original community delivery models, so this feels particularly relevant to that area of our work. Plus, it's always refreshing to hear about new methods of engagement, especially now that the programme is 10 years old! That session is also due to involve individuals and councils that Health Diagnostics have had dealings with, therefore giving it an added level of interest for me personally. Overall, it's always nice to catch-up with our public health colleagues who we often see at these events, as well as to make new relationships with what's generally a very engaged group of delegates."
Jen Sutherland

"There are a lot of really interesting looking sessions in the programme this year. I think out of all of them, my 'top pick' would have to be the session on 'Facing the future: The role of digital technology in the NHS Health Check'. It's very closely aligned with the area in which we work. It's also where we've been recognised for our innovative approach (for example, when Business Cloud recently selected Health Diagnostics as one of the UK's leading 51 Health Tech pioneers.) My team and I are very receptive to new ways of working and to incorporating emerging evidence-based technologies, so it will be interesting to see what we can take away from this, particularly in terms of trying to boost uptake to previously unchartered levels. In addition to that, I always enjoy meeting the people that attend these conferences. It's been great to see the profile of Health Diagnostics grow to the extent that now many of those we meet are already aware of us and our reputation for delivering quality!"
Matt Mellor

"PHE's annual conference has a really professional look and feel this year. The addition of a digital zone in the exhibition area is a welcome development and we're very excited to be contributing to hopefully making this area a real draw. I personally have both a keen professional and personal interest in mental health and where the mind meets the body. As far my experience shows, meaningfully addressing this area carries the potential to unleash huge health benefits for the UK population. For me then, the stand out session has got to be the one on 'Improving physical health in people with mental illness'. People with mental illness also represent a seriously under-served group who all too often fall victim to the inverse care law. As a result, you could say that there's a real moral incentive to bring about positive change in this area as it's at the root of some of the country's most pervasive inequalities."
Review the conference's full programme here.
What to expect from Health Diagnostics' stand in the market place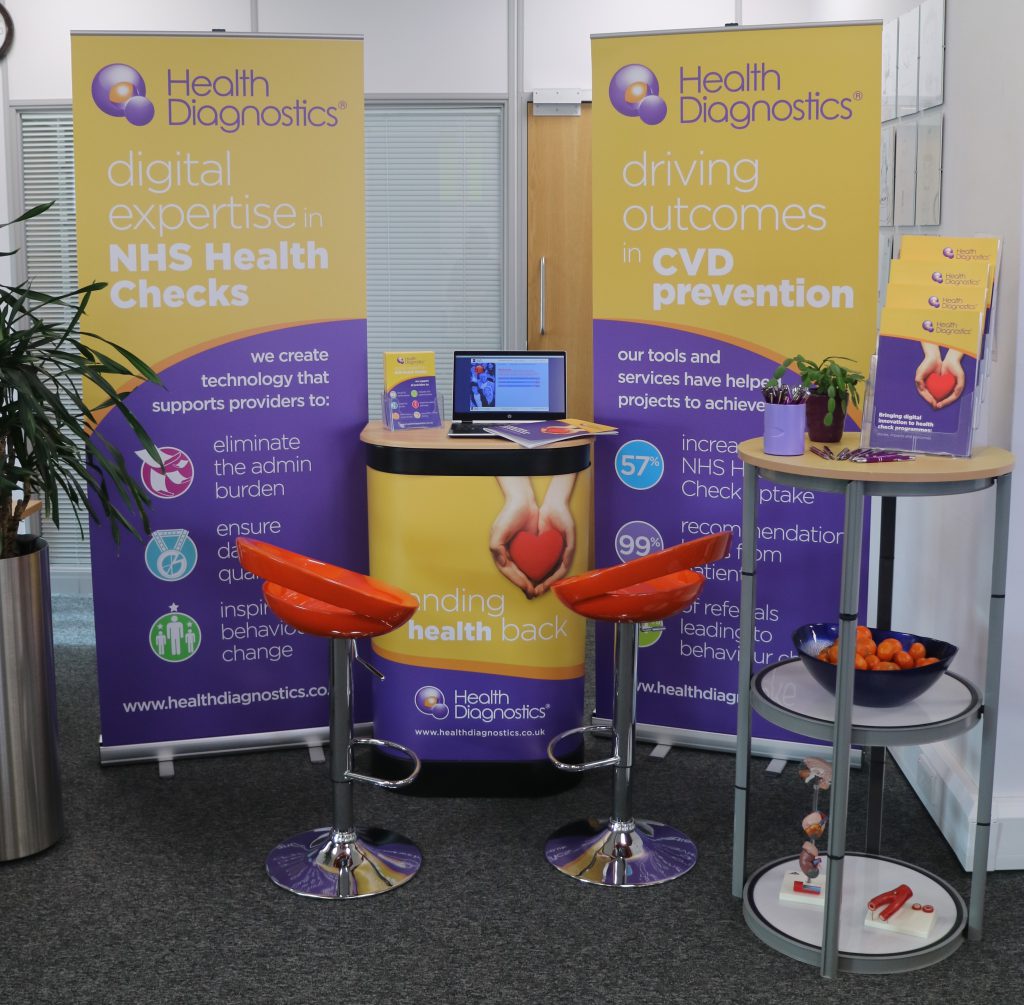 Health Diagnostics are excited to be presenting our innovative products and services within what will be the conference's first ever 'digital zone'. According to PHE, this will be where delegates "can see how digital can shape the future of CVD prevention, and take part in activities on the interactive whiteboard". We're very much looking forward to contributing to these conversations!
For those that drop by Health Diagnostics' stand, you'll be able to:
Pick up a newly created case study document detailing stores, impacts and outcomes from a variety of the projects that we've been involved in. In addition to traditional council-led NHS Health Check programmes, delegates will also be able to read about how we've supported NHS foundation trusts to deliver health checks to their staff, as well as how we've worked with charities to deliver community-based health check initiatives at cricket matches!
Drop by for a demonstration of our IT solution and find out about how it can support commissioners and providers with everything from sending health check invites, to establishing programme outcomes (and all that's in-between!)
Come and put your name down on our mailing list, pick up one of overview flyers, or just generally come by for a chat about your experiences working on the programme in whatever capacity that may be; we're all ears!
Be sure to join in the conversation online by using the hashtag #PreventCVD2019. We're looking forward to seeing you there!